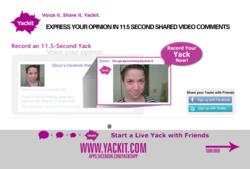 Four-person public Yacks replace texting, tweeting and skyping with a single interface, resulting in a compelling and entertaining live show of real-time conversations. Jordan Bienenstock, CEO, Yackit
New York, NY (PRWEB) June 06, 2011
Got an opinion? Share it with the world at Yackit.com, a new online platform enabling 24/7 personal opinion-sharing and head-to-head video conversations about stuff people care about. People can watch or join -- all that's needed to start Yacking is a working webcam, a high-speed Internet connection and an opinion.
"Yackit was created so that everyone, not just TV hosts, entertainers and political pundits, can express themselves and share their opinions with a worldwide audience," says Jordan Bienenstock, Yackit Founder and CEO. Making its official debut at New York Tech Meetup on June 7th, Yackit offers two unique functionalities:
11.5-second recorded "Quick Yack" opinion videos connect automatically to the user's Facebook and Twitter and are featured on Yackit.com. The user completes the phrase, "I think that___," to create the video's title. A three-second countdown cues the 11.5-second timeframe for recording the video, which can be previewed and re-taped before sharing. Viewers of the Quick Yack can choose to respond with their own recorded Yack or take it live on Facebook for back-and-forth interplay.
Four-Person Public "Live Yacks" replace texting, tweeting and skyping with a single interface resulting in a compelling and entertaining live "show" featuring real-time, face-to-face structured conversations that let everyone be heard and have their say. Each person gets three minutes to make their case in one-minute chunks, rotating with the other participants. At the end of three rounds, Yackers must either rejoin the queue or start a new Yack. Participants can search topics created by others or introduce a new topic and start their own Yack, which can be scheduled in advance or happen right away by inviting existing Facebook friends who are currently online.
Yackit will invite additional participants who are matched by their interests if they have previously tagged topics of interest on Facebook or Yackit. Non-participants can watch and type comments viewable on screen, or queue up to join the discussion. Unlimited simultaneous Yacks can take place at once.
A leap forward in the evolution of text to talk, Yackit is the natural next step in taking the social experience--message boards commenting, communities--from the written to the spoken word. "Humans are wired to communicate face-to-face, perceiving body language, facial expressions and tone of voice," says Douglas Atkin, COO and Co-Founder. "The internet has not yet caught up in enabling this, and Yackit is a step forward in creating this richer, more real-life experience."
Both the "Quick Yacks" and "Live Yacks" enable high-profile, no-cost virtual "personal appearances," providing an ideal venue for influentials to easily and quickly reach out to their friends, fans and followers. Yackit will be hosting several upcoming celebrity/political public Yacks. Users are invited to check for upcoming events at http://www.Yackit.com.
Customized branded Yackit subdomains for companies: Yackit can also create customized, skinned subdomains for special events, conferences, talk shows and publicity junkets without the hassle and expense of a studio or meeting place. Subdomain Yacks are also visible on Yackit.com and the Yackit Facebook app to generate rapid user expansion. Registration is simple with Facebook and Twitter Connect. Branded subdomains can also include a moderator function starring a host who manages the speakers and the duration of their Yacks.
About Yackit.com: Yackit.com is owned and operated by Your POV TV, New York, NY. Yackit's Social Mission: To encourage direct sharing of ideas between people. In a world of conflicted opposition, Yackit provides an important platform of exchange to reach common ground. Register free at http://apps.facebook.com/yackitapp or at http://www.Yackit.com.
Media Contact: Ann Peterson Ann(at)Yacki(dot).com 914-939-8869 o 914-413-1115 c
###