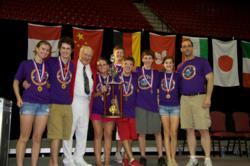 In my nineteen years of coaching I have never had such a hard working group of students. Owen J. Roberts produces some fine students and strong problem solvers.
Pottstown, PA (PRWEB) June 05, 2011
A team of seven students from the Owen J. Roberts High School grabbed first place honors bringing the title of Problem Solving Champion back home to Pottstown. Kelsey Dielman, Andrew Rajtik, Stephen Dallas, Brittany Simmons, Cassidy Hart, Zach Matarazzo, and Collin Sager competed in the Odyssey of the Mind World Finals competition on May 27th through May 31st. Teams from across our country and from as far away as India competed to match wits and see who had the sharpest minds. By competitions end, it was clear that the Owen J. Roberts students were the superior thinkers.
Odyssey of the Mind is the world's largest problem solving competition. Students choose from one of five problems early in the season and perfect their solutions through the course of the year. Owen J. High School students have traditionally gravitated toward the structural engineering problem offered by Odyssey. This year's dilemma required that the team design and construct a balsa wood and glue structure that stood at least eight inches tall and weighed no more than 18 grams. The structure needed to be built of multiple pieces that could be quickly hinged together so that the parts could be folded into one weight- bearing device. Once folded, weights are placed on top of the tower until the device reaches its failing point. Scores are tallied based on the creativity of the design and the amount of weight the structure can support. In addition to constructing the balsa wood structure, the team needs to write and present an eight minute dramatic performance in which this year's theme of "Hinging" is incorporated. Students involved in Odyssey exercise a vast array of skills and incorporate their many talents into solutions to problems posed by judging teams. Members put their math skills to the test, draft scripts, design elaborate backdrops, compose music, choreograph dances, and solve spur of the moment problems termed "Spontaneous Problems" at these contests. The entire competition is designed to allow students to show their talents and play to their strengths.
This year's high school team had its work cut out from the first practice day in early November. Last year's Owen J. Roberts High School Odyssey team had accomplished a great deal during the 2009/2010 season. That group of students won a southeast regional title, followed that up by taking the Pennsylvania State Championship, and then placed third in last year's world finals held at Michigan State University. Not to be outdone, this year's team again took home the southeast regional title. This group then went on to "One Up" last year's team by not only winning the PA state title, but by setting a new Pennsylvania state record for weight held in an Odyssey competition. The balsa wood structure engineered by this year's group did not shatter until it had supported a staggering 1,390 pounds. Finally in May, this Owen J. team traveled to the University of Maryland where they seized the world championship title by crushing all competition, defeating last year's champion, Shanghai University from Shanghai, China by 44 points, the largest margin of victory at this year's world finals competition. The team's coach, Mr. Christopher Palochak, has been training Odyssey students for nineteen years. When asked to describe his feelings toward this year's team he replied, "In my nineteen years of coaching I have never had such a hard working group of students. Owen J. Roberts produces some fine students and strong problem solvers. I have had the honor to work with some very talented children but this group is amazing! Not only are they bright, but the team refuses to be outworked by anyone. The amount of effort they put into preparing for this year's competitions is staggering! The entire Owen J. community should take great pride in the accomplishments of these students. Because of the hard work of these kids, the Owen J. Roberts school district is well known in Odyssey circles and throughout the world. It always brings a smile to my face to see the competition room fill up as people from every competing state and country come to see our Owen J. students perform. Through the years our kids have built quite a reputation. " Mr. Palochak also mentioned the support his teams have gotten in recent years from local businesses supporting Owen J. Roberts Odyssey of the Mind. Specifically Bentley Systems based in Exton and Diamond Credit Union in Pottstown, PA. "Both of these businesses have stepped up and made generous donations to insure our students and their families can continue to stretch their minds and compete on the world stage. The costs of traveling to these competitions can become burdensome for families. Both Bentley and Diamond are aware of the need for programs like Odyssey that allow students to exercise their math and science skills. I have to give a big thank you to both of these organizations for stepping up and helping our students!"
The world title brought home by our high school students is not the first for the Owen J. District. In 1999 a team from Vincent Elementary school took first place at the University of Tennessee. Two year ago seven students from West Vincent Elementary won the world title while competing at Iowa State University. Now, our high school can add an Odyssey of the Mind Championship to its rich academic history. With the wealth of cerebral talent our school district produces, one would guess there are more world titles in our future. Congratulations to Kelsey Dielman, Andrew Rajtik, Stephen Dallas, Brittany Simmons, Cassidy Hart, Zach Matarazzo, and Collin Sager and thank you for your efforts and representing our district in these competitions.
For more information please contact Chris Palochak, Owen J. Roberts OM coach and teacher at Vincent Elementary School in the OJR School District. His email address is cpalochak(at)ojrsd(dot)com.
###