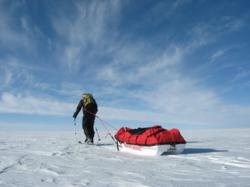 Conditions in these remote corners of the world are brutal at the best of times and these added complications make the job even harder.
London, UK (PRWEB UK) 6 June 2011
Polar explorer Alex Hibbert has stated that the nature of high-end expeditions to the Arctic and Antarctic is destined to change forever due to man-made pressures. In the light of the UN's World Environment Day (5th June), Hibbert (25), who holds the world-record for the longest unsupported polar journey in history, voices his views after another historic season in the Arctic.
In the arctic spring season (March-May) each year, a handful of explorers travel to their launching points in various areas of the frozen Arctic. This year, only a fraction of these committed professionals were able to even set foot on the ice due to adverse weather conditions and fragmented ice caused by our changing environment.
In April, Hibbert spent ten days stranded in an Inuit settlement, Tasiilaq, due to persistent low- pressure grounding the only helicopter for hundreds of miles. He hoped, with team-mate and Afghanistan-veteran Andrew Wilkinson, to break the world speed record for crossing the 350-mile width of the Greenland icecap. This is seen as one of the 'Big Three' polar expeditions, along with full-distance expeditions to North and South Poles, and they hoped to complete it in less than 8 days 9 hours, skiing over 40 miles per day.
Hibbert said, 'It is clear that each year, polar professionals must make extra changes to their plans in order to ensure a successful expedition. Conditions in these remote corners of the world are brutal at the best of times and these added complications make the job even harder. The innovative will adapt and survive, for example by starting journeys earlier, even in the winter, to get better ice conditions. Outside the expedition world, the rapid changes in ice condition are another reminder that tangible action needs to be taken by those in government.'
Others fared similarly badly, having to abandon North Pole attempts due to poor sea-ice and storms. Just ten years ago, the time-window for arctic expeditions was many weeks longer, allowing for more success. These time constraints are due to the need to ensure that aircraft can safely land to pick up explorers and are being limited by climate change, thought to be caused or accelerated by humans.
Meanwhile, the rise of amateur adventurers venturing further into the cold and windy wildernesses has continued. Often without adequate training or professional guides, they are contributing to alarming fatality rates and Hibbert is concerned that the Poles could follow the same way as the commercialisation of Everest. In April, Hibbert's grounded helicopter pilot in Greenland recalled how he had to collect the bodies of two novices off the icecap just days before.
In 2008 Hibbert, aged 22, with his team-mate George Bullard, skied 1374 miles (2210km) in 113 days via a new route across the arctic Greenland icecap. They broke the 8-year-old world record for unsupported distance and narrowly escaped starvation and huge crevasses in storm-force winds and temperatures below -35 degrees whilst hauling 200kg sledges.
Hibbert will reattempt his world-record speed attempt this August and has a further world-first planned for spring 2012. More details for the 2012 expedition can only be made available for premium coverage opportunities.
Hibbert is available for interviews, expert comment, features and photo opportunities.
SUPERB HI-RES IMAGES AVAILABLE ON REQUEST
# # #