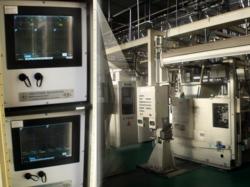 We needed to source equipment of the highest quality that would not only be compatible with other supplier's machines but also come with technical support and back-up. Universal Balancing proved to be the only supplier who could tick all the boxes
Bristol, Gloucestershire (PRWEB) June 06, 2011
The automotive manufacturing industry demands consistent standards of efficiency from all of its systems in order to achieve the quality that can make all the difference in this highly competitive sector. Nissan Mexicana (a subsidiary of Nissan Motor Co) has saved 40-60% on the purchase of new equipment by commissioning Universal Balancing to upgrade the control system of another supplier's obsolete balancing machine. This presented a challenge, even for this specialist balancing solutions provider, as the customer required the work to be completed and up and running over the Xmas/New Year holiday period to avoid disruption to production schedules.
Nissan Mexicana produces high quality automotive parts for the 2.5 litre QR25 engine for the Altima model which must be durable and reliable under extreme operating conditions. As such, the manufacturer depends on systems capable of consistently generating components that comply with stringent control standards.
One of the critical elements of the process is the machining of the crankshaft due to its specific function in the engine operation (conversion of linear movement to rotary) – and in particular the balancing of the components such as crankshaft balancing. Nissan Mexicana therefore had to decide whether to upgrade or replace the obsolete controls on its automatic seven-station balancing machine in order to guarantee accurate results every time in the delivery of vibration-free engines with a long service life.
"We had been experiencing difficulties with our existing balancer in uploading programs as after 18 years of operation, the measuring system was no longer working efficiently," comments maintenance supervisor Josè Antonio Romo who, along with Hèctor Delgadillo is responsible for the maintenance of all the crankshaft machining lines. "Furthermore, it was not possible to obtain spare parts for the machine as the original supplier had gone out of business."
Josè Antonio and Hèctor spent time researching suppliers of balancing machines and balancing solutions, deciding that Universal Balancing would be the best choice to meet all of their exacting requirements.
"Our selection was based on very specific criteria," explains Hèctor. "We needed to source equipment of the highest quality that would not only be compatible with other supplier's machines and include Windows-based software programming and applications but also come with that all-important technical support and back-up. Downtime is not an option in our business so it was imperative that any system purchased was absolutely reliable. Universal Balancing proved to be the only supplier who could tick all the boxes."
Cost was also a key factor when it came to selecting a supplier as an upgrade of a competitor's equipment is usually a lengthy and expensive process because of the inherent difficult technical challenges – and it is often virtually impossible to achieve a satisfactory result. Universal Balancing engineers travelled to Mexico in order to carry out an accurate assessment of what Nissan Mexicana required and make recommendations.
"As specialists in balancing machines, technologies, retrofits and upgrades, we were able to provide Nissan Mexicana with a balancing machine solution that was up and running within a couple of weeks, well within budget and at the same time achieving a 40-60% saving on purchasing new equipment," comments Paul Fowler, business manager for Universal Balancing. "Key to the success of this type of upgrade - which usually could only be carried out correctly by the OEM - was the configurability of our UNI-44 measuring system which made interfacing it with Nissan's machines a relatively straightforward and seamless process."
It was the innovative technology and flexible approach of Universal Balancing both as a business and as individual members of the engineering team that ensured the success of the entire project.
"All commitments made to us were fulfilled as agreed and in the limited timeframe we had available," continues Josè Antonio. "The quality of the upgrade itself including all peripheral components and systems was first class. The fast response programming provides high precision measurement in determining the quantity of excess material to be removed and the exact angle at which to cut.
"Furthermore, the existing pickups were replaced with piezoelectric transducers because in addition to being extremely cost-effective, they tolerate aggressive operating environments (presence of coolant, oil, vapor, etc); they are smaller, simpler - and much easier to install. We are now benefiting from a much more user-friendly system that is both reliable and easy to maintain – and all of this was achieved without disruption to our production schedule, which is a tremendous bonus."
More than satisfied with the outcome, Nissan Mexicana will consider implementing Universal Balancing systems for future applications.
"We would definitely recommend Universal Balancing to any company looking for new machines, retrofits or upgrades," concludes Josè Antonio. "Their flexibility, reliable machinery and superior technology make a winning combination for cost-effective and efficient balancing solutions."
###