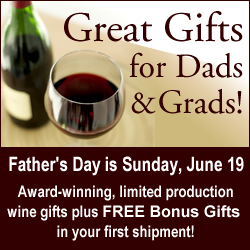 "My husband & I discovered Gold Medal Wine Club a few years ago...the wine gifts have been incredibly popular with our friends and relatives. In fact they look forward to it every year now!" — Gwen Nevins, Chicago, Illinois
Santa Barbara, CA (PRWEB) June 06, 2011
It's that time of year again. The latest technology gadgets, golf attire, and cheesy work ties are hitting the stores and "World's Greatest Dad" seems to be imprinted on everything from t-shirts and photo frames, to coffee mugs and ink pens. It's Father's Day, and a time to do something special for the dad, husband, or grandfather in your life. If you're tired of resorting to the cliché gift ideas, then why not step outside the box and surprise dad with something different?
This year, Gold Medal Wine Club helps solve the dilemma with an assortment of new gift packages and wine clubs designed especially for Dad. Wine makes a great gift because it's not something that will be put away and forgotten about – it will immediately be opened, shared, and enjoyed with friends and family. What's more is with a wine club gift, Dad will have something to look forward to not just on Father's Day, but throughout the year.
Wine Clubs also make a great gift for graduates this time of year. The sentimental "growing up" books and "Class of 2011" memorabilia are still nice thoughts, but how about something fun and different? Graduation is a time for celebration, and what better way to celebrate than with a special bottle of award-winning wine?
With a multitude of wine clubs out there, it can be hard to decide which one is the best fit – maybe your dad is into those really prestigious wines with the small production and top ratings, whereas your graduates might benefit from a wine club more catered to featuring "everyday wines" that still introduce their palates to nicer wines, but without the intimidation factor. With five different wine clubs to choose from, ranging in price point, wine varieties, and quality level, Gold Medal Wine Club is a one-stop shop for anyone you are buying for.
The most popular gift choice from Gold Medal Wine Club is the Gold Series wine club, featuring hard-to-find, medal-winning wines from small, family-owned California wineries. Each month, dad or grad will receive two outstanding bottles, beautifully presented in gift-wrapped tissue and bows and a full color newsletter publication called "The Wine Press." This exclusive publication presents information about the wines, the fascinating backgrounds of the winery owners, a behind-the-scenes tour of the vineyards, and special food pairing recipes direct from the winemakers themselves. Starting at just $35 per month, the Gold Series is a great value and truly an impressive gift. For a limited time, find FREE Bonus Gifts (stainless steel corkscrews, neoprene totes, and Vinturi Aerators) included with any 3, 6, and 12 month Gold Series gifts (http://www.GoldMedalWineClub.com/DadsGrads).
Gold Medal Wine Club also offers upper-level and international wine clubs to help you find the right fit for your gift recipient. The Platinum Series features 90+ rated, ultra premium wines from California; the International Series highlights a different country with each shipment and includes a gourmet selection of imported food items; the Pinot Noir Series is the perfect choice for the Pinot lovers in your life; and the Diamond Series selects only those most prestigious bottlings with legendary 93+ rated marks and serious "wow" factor. Sure to be enjoyed by the wine novice and wine aficionado alike, the wine club offerings from Gold Medal Wine Club are just plain hard to beat.
In business since 1992, Gold Medal Wine Club has the reputation as one of the leading independent wine clubs in the world – and for good reason. With unbeatable standards for quality and customer satisfaction, and consistency in offering simply incredible wines to their members at unbelievable discounts, this wine club gift is the choice for Father's Day.
Place your order by logging on to http://www.GoldMedalWineClub.com or calling 1-800-266-8888 to be sure your gift will arrive in time for the big day.
###