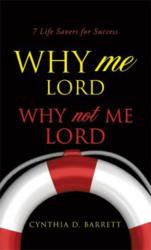 Our relationship with God is essential in living a productive life filled with peace, hope, love, joy and happiness.
Longwood, FL (PRWEB) June 20, 2011
Many times people question why they experience or encounter issues in their life without understanding God still loves them and wants the best for them. In the new Xulon Press title, Why Me Lord, Why Not Me Lord ($11.99, paperback, 978-1-61215-569-2; $5.99, eBook, 978-1-61215-957-7), author Cynthia D. Barrett helps readers to understand the principles of the seven life savers for success, which are essential to living a life. Within the pages of this book, the author also provides inspirational insights to people on how to endure many life lessons and challenges, as well as encouragement to Christians during their spiritual walk with the Lord to follow God's roadmap of life.
"This book will provide insight and encouragement to others as we endure many life lessons and challenges," the author says. "It will illustrate that we must first seek God in all things and that He is the answer to all of our most perplexing questions."
Cynthia D. Barrett is a Christian author who stands on the Word of God as it is outlined in Philippians 4:13, which states, "I can do all things through Christ who strengtheneth me." God has provided her with the unique opportunity to bless others with her inspirational writing and poetry, which is the result of her walk with Jesus Christ and her steadfast and unshakeable faith in the Lord. Barrett truly believes and stands in the faith that with God as the head of a person's life, they can achieve all things. She hopes that, by the end of this book, the question of "Why me, Lord?" will be answered with the response of "Why not me, Lord?"
Xulon Press, a division of Salem Communications, is the world's largest Christian publisher, with more than 8,000 titles published to date. Why Me Lord, Why Not Me Lord is available online through xulonpress.com/bookstore, amazon.com, and barnesandnoble.com.
###