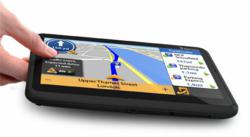 Paris, France (PRWEB) June 05, 2011
Forced by the new mandate to address the Hours of Service issue, operators are turning to telematics to generate accurate, reliable and compliant driver and vehicle logs.
Responding to one of the US transportation industry's biggest challenges, Mobile Devices will unveil the first Telematics Tablet in Detroit next week.
Fleet management is no longer simply about vehicles; it's also about the drivers. The Telematics Tablet addresses the driver's needs such as navigation, traffic information or speed alerts as well as the critical imperatives of the fleet operators such as driver logs, vehicle inspection or dispatch.
Mobile Devices' Telematics Tablet is OS-based, programmable, and comes with a full SDK that enables developers to create the services in High Definition.
Thanks to the Morpheus3 OS, the tablet can run two applications on the screen at the same time, for example: truck-specific navigation and routing.
The tablet comes ready for any MRM application, with its I/O and accelerometer in a solid smart cradle that connects to the ignition.
With price and reliability in line with telematics standards, the 7" Tablet has the power to become the central communications hub to back-office applications, enabling the display of HoS, driver login, vehicle inspection or other complex services all at once.
You can experience the first Telematics Tablet at the forthcoming Telematics Detroit Show in Novi, Michigan on June 8-9.
About Mobile Devices:
Mobile Devices is a leading provider of next generation connected navigation devices, smart displays, tablets, dongles and black boxes - all running the same Open Telematics Operating System: Morpheus3.
With Morpheus3, developers benefit from a powerful SDK to access the device settings, the applications running on the device as well as the communication gateway. In fact, Mobile Devices delivers a complete OS based open environment from which a telematics marketplace is now emerging. (http://www.mobile-devices.com)
###