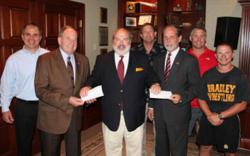 It has very little to do with the buildings and it has everything to do with the right coaches and the program.
Cleveland, TN (PRWEB) June 05, 2011
Allan Jones, center, presents a check from The Allan Jones Foundation to city and county officials to complete a multi-year commitment to new state-of-the-wrestling facilities for Cleveland and Bradley Central high schools. Pictured, from left, is Cleveland High School wrestling coach Eric Phillips, Cleveland Mayor Tom Rowland, Jones, Bradley Central athletic director Turner Jackson, former Bradley Central wrestling coach Steve Logsdon and current Bradley Central wrestling coach Ben Smith.
Two high schools separated by only a few miles --- that have historically dominated the entire state of Tennessee --- now have new state-of-the-art wrestling facilities thanks to a long term commitment just completed by philanthropist and payday loan pioneer Allan Jones.
Jones, who has fought back controversy after taking payday lending and micro-credit to national prominence, has established a private foundation that has been a dedicated supporter of athletics and wrestling programs throughout the country. Jones has been attacked by activist groups who have blurred the lines between the true cost of interest and annual percentage rate (APR) formulas. Jones maintains that his Check Into Cash company offers needed credit at reasonable, one-time fees to its customers.
Jones has remained outspoken in his defense of his business, and also continues to offer philanthropic support to programs like the high school wrestling champions from his hometown.
The uniqueness of this project lies in the fact that two schools in Jones' hometown have run roughshod over every program in Tennessee --- and for the past five years have been the top two programs of more than 180 schools in the state.
While most wrestling programs are forced to share facilities with football and basketball teams --- and often suffer as a result --- Jones' commitment to these hometown high school dynasties has given Cleveland and Bradley Central high schools dedicated facilities to hone their championship crafts.
Jones actually wrestled for Cleveland High School in 1972. His alma matter has finished in second place behind cross-town rival Bradley Central for five years in a row, but this year Cleveland finally captured the traditional state championship. Bradley also won the dual state championship. The two schools draw sell-out crowds locally when the teams square off against each other.
While Jones expressed pride in his hometown schools, he was quick to note that the wrestling centers were not the secret ingredient to the wrestling success in Cleveland, Tenn.
"It has very little to do with the buildings and it has everything to do with the right coaches and the program," Jones said. "Bricks and mortar aren't that important. Money can't do this. Schools that win on a consistent basis have great coaches leading the programs."
For more information on the Allan Jones Foundation visit http://www.allanjonesfoundation.com.
###