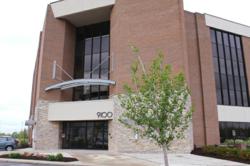 This new space will provide an opportunity for future expansion and is well suited for the needs of our support department. - President Matt Konkle
Indianapolis, IN (PRWEB) June 06, 2011
Fifth Gear, an Indianapolis-based provider of outsourced order fulfillment, contact centers, ecommerce technology, and marketing services for online and catalog retailers, has announced its move to a new corporate headquarters. Effective today, Fifth Gear operates in a newly-renovated location in Indianapolis' popular College Park Pyramids area on the northwest side of the city, an area that is rapidly expanding with economic development. Offices are now located on the fourth floor of 9100 Purdue Road in the Parkstone Office Center.
After occupying its previous headquarters on the west side of Indianapolis for nearly 10 years, Company leaders say that the new facility is another step in executing its strategic growth plan. The office has been designed to streamline operations and to allow for better communication among departments. Modern furnishings and technology have been installed to create an open space environment with sound-masking systems, private conversation rooms, a learning center, and an updated technology infrastructure.
"The timing of our move is advantageous to Fifth Gear for a number of reasons," says President Matt Konkle. "This new space will provide an opportunity for future expansion and is well suited for the needs of our support department. We look forward to continuing exemplary support for our operations staff and clients from our new location."
Fifth Gear's Indianapolis headquarters includes its information technology, sales, marketing, software development, technical support, human resources and finance departments. The Indiana location is home to approximately 50 employees. The Company reports that all phone, fax, and email contact information will not change.
In addition to its Indianapolis headquarters, Fifth Gear operates distribution facilities in Louisiana, Missouri and Hazleton, Pennsylvania. The Company also provides contact center services at three locations in Moberly and Louisiana, Missouri.
About Fifth Gear
Fifth Gear (http://www.inFifthGear.com) provides outsourced order fulfillment, contact center services, ecommerce technology and marketing services to specialty retailers and manufacturers of consumer products. The Company serves as a single source partner to its clients, providing access to the industry expertise, infrastructure and technology they require to drive revenue growth. Fifth Gear is privately-held and headquartered in Indianapolis, IN. The Company serves over 100 ecommerce and catalog retailers today and continues to expand its portfolio of unique offerings for its multichannel retail clients.
###