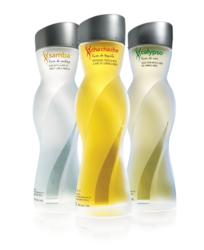 Our strategy was to design a striking, memorable bottle and put premium product inside it.
New York, NY (PRWEB) June 06, 2011
For the discerning female consumer unsatisfied with the taste of many popular alcoholic beverages, SX Latin Liquors has launched a new line of premium Latin spirits infused with sensual and exotic ingredients. The distinctive contoured bottle and the products inside deliver on the brand's bold promise: Your Drink. Sexier!
SX (the "S" stands for sensual and the "X" for exotic) is launching with three products. All are named for passionate Latin dances: SXchachacha (100% agave reposado tequila infused with lemon and honey, SXcalypso (aged rum and a hint of mint and lemon) and SXsamba (cachaca rum with a hint of vanilla and sweet limes).
SX Founder and CEO David Knight says, "Packaging is key to driving trial at the point of purchase. Our strategy when we started this business was to design a striking, memorable bottle and put premium product inside it." Knight identified tequila for SX's first product line because of its fast-growing popularity, but current lack of innovation in the category. "We wanted to introduce something that would grow the category and attract new users. Key to that proposition was to produce a bottle that breaks industry norms and stands out." Knight is a global marketing expert and executive who worked for Frito Lay, Gatorade, PepsiCo, Quaker Oats and eBay before starting SX Latin Liquors.
According to Stuart Leslie, President, 4sight inc., the New York-based design and innovation firm, "The curvaceous bottle exudes pure sensuality and mystique. The inspiration behind the design are the curves of the female body and the smooth rhythm of the music; that is the core of Latin culture and tradition."
The blown glass bottle was designed to provide differentiation in a category that is saturated with tradition and rich, Mexican heritage but lacking in appeal to women. The entire bottle, except for one small clear panel, is frosted, resembling a flowing dress with an alluring front slit. The modern-styled cap contains a cork, making it easy to pull off. Simple and elegant graphics at the top of the bottle, just below the cap, include color-coded typography that marries the logo with the three products and was designed by Greg Stewart, Ingenuity Design, Norwalk, CT.
While the key intended target audience is women, the shape and physique of the bottle is designed to also attract men to its alluring form.
The full range of spirits will become available in Florida during June 2011, and will then expand to New York and nationally for both on and off premise purchase. Produced in 2 sizes, 750 ml and 1 liter, the suggested retail price is $39.99 and $49.99, respectively.
Marketing will initially be through social networking sites, email campaigns, and sampling events nationwide.
4sight inc. (http://www.4sightinc.com) is a New York City-based design and innovation firm specializing in Structural Branding™. The company creates transformational brand and product experiences, which consumers emotionally connect with, through innovative structural packaging design, and is a strategic partner for the world's leading companies including: PepsiCo, Unilever, Johnson & Johnson, Kraft Foods, Pfizer, S.C. Johnson, Nestle and Wrigley.
SX Latin Liquors is a line of premium spirits including award-winning tequila, rum and cachaca infused with sensual and exotic ingredients to deliver the ultimate taste experience, its products appeal to discerning consumers looking for delicious drinks that can be enjoyed over ice or inside their favorite cocktails. Learn more at http://sxliquors.com/ and become a fan on the SX Facebook page http://www.facebook.com/#!/sxliquors.
# # #