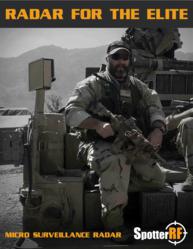 (PRWEB) June 05, 2011
SpotterRF recently announced that it will be offering a seminar on Small Force Protection Technology to selected military units. This seminar includes a 60 minute brief on technologies that have recently been fielded, a 15 minute question and answer session, and a 30 minute demonstration on setup and operation of a Compact Surveillance Radar.
Recent Force Protection technology roll outs have come in the form of systems such as the Rapid Aerostat Initial Deployment or RAID tower, developed as part of the $1.5 billion BETSS-C program contracted by the Department of Defense to deploy 500 towers in theater during 2008 and 2009 (Defense News).
The BETSS-C has been successful in providing increased situational awareness for many larger operations. It includes a variety of detection equipment including electro-optical sensors, infrared sensors, cameras and radars with ranges up to 10 km. However, these capabilities come at an often heavy cost to the operator. Such systems are mounted on towers that rise up to 107 feet in the air, weigh thousands of pounds, consume a large amount of power, require a large logistical support group, and cost an average of over $2 million a system.
For small operating forces in austere locations; size, weight, power, ease of use, and cost are all critical factors that make systems such as the RAID impractical. For these groups, much has been done in the last few years to provide similar capabilities but much simpler, lower SWAP, and a fraction of the cost. These technologies give small and remote forces surveillance capability and situational awareness where often they had none before.
"In our conversations with military personnel we have realized there is a false notion that surveillance equipment for force protection is only for the battalion and not for the platoon," said Brock Josephson, Business Development Manager at SpotterRF, "Our goal in offering this seminar is to dispel those ideas as well as solicit feedback on what can be done to make these systems even more effective for our warfighters."
If you are interested in learning more about the seminar contact us at: pr(at)spotterrf(dot)com or visit our website at http://www.spotterrf.com.
# # #