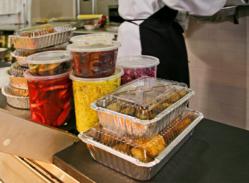 SupplyWays.com offers the convenience of online shopping, low wholesale prices and now special savings shipping.
Portland, OR (PRWEB) June 07, 2011
SupplyWays.com is pleased to offer food service supplies for businesses who want to save time with one-stop shopping for restaurant supplies or catering supplies and for homeowners who want great prices on wholesale food service supplies and office supplies every day of the year. To receive the special shipping discount for this SupplyWays promotion, select 20% off discount as the preferred shipping method at checkout. Discounted shipping will not be an available option until the $100 order threshold is met. Any order that totals over $100 in products is eligible for the special savings of a 20% discount on UPS Ground shipping.
SupplyWays.com carries a full line of paper supplies, food service supplies and wholesale restaurant supplies. Recent increases in shipping prices instituted by the major shipping companies are tied to increased fuel costs worldwide. These costs can pose a financial challenge to small businesses already dealing with a fragile economic recovery. SupplyWays helps businesses enjoy real savings on their shipping costs while shopping for everything that is needed with online convenience. Simply combine any items from the 500 plus categories to reach the $100 order amount and receive the 20% UPS ground shipping discount on every purchase.
Looking for restaurant and deli to go needs? SupplyWays.com offers a complete line of take out containers made from many different material types. Choose from a variety of business supplies - all displayed in one convenient location. Whether its deli food containers for attractive product display, carry out containers so that customers can pick up food from a restaurant, or paper lunch boxes for customers on the go, stock up and take advantage of the special offer on UPS ground shipping. Other to go container options include those made from plastic, styrofoam, and aluminum, as well as paper cake boxes, disposable baking supplies and disposable food trays for all catering needs. To learn more, please visit our website online.
Other wholesale foodservice products also include disposable plates and bowls. SupplyWays offers paper plates and bowls in an array of colors, sizes and styles from trusted name brand manufacturers like Chinet, Nature's Own, Reynolds, Solo, Dart and more. SupplyWays also stocks disposable plates and bowls made from many different material types like plastic and foam bowls that are the perfect serving containers for hot foods such as soups. Pair them with the matching lids for customers who want take out soup. And when purchases are combined into an order that totals $100 or more, receive the discount on UPS ground shipping.
To receive a special shipping discount, choose from a large selection of disposable cups and lids available in many different sizes and materials. Dart Styrofoam cups are the perfect choice for hot drinks. If products for coffee service are needed, buy paper cups for hot coffee and then stock up on coffee cup sleeves and matching lids for beverage carts or the company break room. Kids and adults need plastic cups for cold beverages all summer long, so find them in stock on the SupplyWays website. Don't forget the molded fiber carriers for customers who want to carry out multiple drink cups for office mates-offered at a great low price every day.
Looking for the best selection of disposable plastic cutlery in an array of weights and colors? Check out the selection of plastic forks, knives and spoons in both medium and heavy weights. Available in either black or white-mix and match them and still get great wholesale pricing. When ordering items from any of the product categories and a combined order total of $100 or more is reached, receive a 20% discount on UPS ground shipping with the order.
About SupplyWays.com
SupplyWays.com is a supplier of wholesale paper, food service supplies, shipping, packaging materials, and janitorial supply for home or business. Supplyways focuses on providing customers with an easy-to-use website, shipment of orders within 24 hours and consistently fair prices. SupplyWays.com is located in Portland, OR and serves businesses and homeowners nation-wide.
# # #