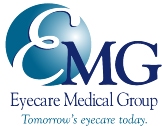 Cataracts are the leading cause of blindness worldwide. About 20.5 million Americans age 40 and older have cataracts and more than half of all Americans develop cataracts by age 80, commented William Holt, M.D. of Eyecare Medical Group.
Portland, ME (PRWEB) June 05, 2011
Many patients do not actually know that a cataract is a clouding of the crystalline lens of the eye preventing light rays from passing through it easily. This results in a clouding and blurring of vision. Patients should understand that cataracts are not a growth or a film over the eye. For many patients cataracts start out slowly and have little effect on vision at first. But, as the cataract becomes denser, so does the impact on vision. The most common symptoms that bother patients with cataracts include:

blurring of vision
sensitivity to light and glare
double vision in one eye
poor night vision
fading or yellowing of colors
frequent changes in glasses or contact lens prescriptions.
"When cataracts do begin to interfere with daily activities or with patient comfort and safety, they can be treated surgically. Cataract surgery is one of the safest and most frequently performed surgeries in the United States. Today, we have a full range of Intraocular Lens Implants (IOL) available that allow us to correct near vision as well as distance vision without requiring bifocals or reading glasses for the vast majority of patients," said Bruce Cassidy, M.D., a leading cataract surgeon at Eyecare Medical Group.
Eyecare Medical Group is a Maine Ophthalmology practice staffed by a team of eye care specialists including Board Certified Fellowship trained Ophthalmologists, Optometrists, Opticians, technical and administrative staff who provide eye examinations for adults and children, cataract surgery and Intraocular lens implants, (IOL), laser vision correction such as LASIK, diagnosis and treatment of cornea disease including cornea transplants, care for diseases of the retina including diabetes and age related macular degeneration and diagnosis and treatment of glaucoma.
To learn more about Eyecare Medical Group in Portland Maine you may visit http://www.eyecaremed.com or to learn more about LASIK in Maine you may visit, http://www.emglasereyecenter.com. Eyecare Medical Group is a founding member of the LASIK Eye Surgery Patient Information and LASIK Surgeon Directory at http://www.seewithlasik.com and the Cataract Surgery, Intraocular Lens Implant (IOL) and Cataract Surgeon Directory at http://www.aboutcataractsurgery.com.
For additional information, contact:
Gretel Taska, Eyecare Medical Group, 53 Sewall Street, Portland, Maine 04102
Toll Free: 1.888.374.2020
Like Us At: http://www.facebook.com/eyecaremedicalgroup
Follow Us At: http://eyecaremed-maine.blogspot.com
SOURCE: Medical Management Services Group, L.L.C.
###