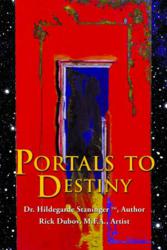 Staninger explains that DNA is your template of your past and present and through the energy spin of your individual body's (the Temple) resonance, you manifest your own super light.
Longwood, FL (PRWEB) June 08, 2011
A cutting-edge phenomenon has been identified that allows a person to create their own universal signal to receive the true blessing of creation. Portals to Destiny ($19.99, paperback, 9781612158570) by Dr. Hildegarde Staninger was written to express the energetic spin of creation through opening the individual portals (gates) of each cell's DNA. Through a combination of science and religion, Staninger explains that DNA is a template of each person's past and present and through the energy spin of each individual body's (the Temple) resonance, to help manifest his or her own super light. Staninger hopes the readers of Portals to Destiny will experience all of the blessings that God has to give them, as God's blessings are limitless. Staninger communicates that it does not matter what people believe or what religion they were raised in - God reads our hearts and will return our continual desires.
According to Staninger, Portals to Destiny is the "golden key" to opening the portal to change a person's own life, families and ancestors as well as to lift mankind and the world back into God's own heart. Staninger describes herself as a soldier of God who was meant to do His work in the fields of science and industrial toxicology where no other would dare to go. She describes Portals to Destiny as God's way of showing that everyone is from the same universal star seed of creation.
Hildegarde Staninger, Ph.D.,RIET-1 is a world renowned industrial toxicologist who, in 2006-07, was principal investigator of a privately funded project to identify the composition of Morgellon's fibers. This original research revealed the environmental impacts upon man, environment and other life forms from exposure to nanotechnology, a work she continues to pursue.
Xulon Press, a division of Salem Communications, is the world's largest Christian publisher, with more than 8,000 titles published to date. Portals to Destiny is available online through xulonpress.com/bookstore, amazon.com, and barnesandnoble.com.
###