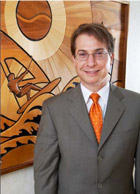 I am honored that other physicians trust me with the care of their patients and their own families.
Plano, Texas (PRWEB) June 07, 2011
Dr. Ronald M. Friedman is no stranger to D Magazine, as he was recently featured in its May 2011 issue as a Best Doctor. Since 2006, it is his fifth time being profiled in this Dallas, Texas, publication.
In order to be named a "Best Doctor," other physicians must vote for a colleague whom they would recommend to their own friends and family. Dr. Friedman, a board-certified plastic and reconstructive surgeon, states: "I am honored that other physicians trust me with the care of their patients and their own families."
Along with his fellow medical professionals, patients feel confident in Dr. Friedman's abilities, knowing that he has the experience and skills to perform various cosmetic plastic surgery procedures. Dr. Friedman is dedicated to patient safety and satisfaction throughout the entire surgery process. From the moment a patient steps into his practice to the final post-operative visit, he and his friendly staff treat every patient with professionalism and compassion.
Dr. Friedman is well-known for his attention to detail and natural-appearing results in breast augmentation, body contouring, mommy makeovers, and facial cosmetic surgery. He also personally performs all Botox, Restylane, Dysport, and Juvederm injections. He carries his skills as an experienced wood and marble sculptor into the operating room, using his artistic eye to benefit his patients. Just as no pieces of wood or marble are the same, neither are any two patients. For this reason, he customizes every procedure to the patient's anatomy and desired outcome.
Dr. Friedman is the Director of the West Plano Plastic Surgery Center, a nationally-accredited surgery center that is located on the campus of Texas Health Presbyterian Hospital in Plano. In addition, he is the former Chief of Plastic Surgery at Parkland Memorial Hospital in Dallas. Dr. Friedman's experience, artistry, and professionalism have led to his consistent recognition as one of the best plastic surgeons in Dallas.
For his patients' convenience, he has two Texas offices: Plano and Flower Mound. Those interested in undergoing a cosmetic plastic surgery procedure with Dr. Friedman may view his website to learn more, view before and after photos, and schedule a consultation.
# # #