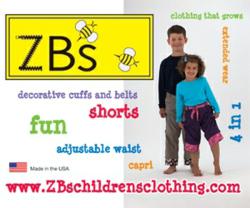 We bought Zb's pants for our six year old son. We love these pants because they have versitility and style. He loves the pockets and the camo cuff. Tacking quality on top made it a great purchase
Seattle, WA (PRWEB) June 08, 2011
A new kids clothing line. After becoming frustrated with outfitting her growing kids with new pants every time they outgrew their back-to-school pairs (or worse, sending them off to school in "highwaters"). Busy mom, Elysia Sloan hit on a solution to add length to the bottom of kids' pants while adding to their versatility.
ZB's pant design is "four-in-one" and includes a cargo-style base short along with a set of longer legs and a set of shorter cuffs. Legs and cuffs can be zipped on separately or together to create custom lengths of shorts or pants. ZB's four customizable options are: shorts, longer shorts/capris, long pants, and extended length pants. ZB's come in khaki, blue, or purple in unisex sizing for boys and girls. The soft, long-wearing nylon pants feature an adjustable waistband and the extender cuffs will add 3-1/2 inches to the long pant length for when kids grow.
"ZB's are the solution to every parent's dilemma in dressing their children. Back-to-School pants purchases start out way too long and baggy in the waist. Then towards the end of the school year, they're too short. ZB's add length and longer wear to kids' pants and they extend the family clothing budget." says Sloan about her inspiration.
Elysia Sloan's passion for family and fashion crossed paths and ZB's was born in 2010. Alongside her two children at the kitchen table, Sloan created pants designs that would be comfortable, durable, and practical. ZB's 4-in-1 pants are extremely versatile for travel, hiking, and for playing in the Sloan family's always changing Pacific Northwest weather.
ZB's retail for $39 and are available exclusively online at http://www.zbschildrensclothing.com in children's unisex sizes 4-9. Optional decorative cuffs and belts are also available in kid-friendly designs. To view a video of ZB's in action, please visit: http://youtu.be/yxz5D5c_XyQ.
Samples are available to the press upon request.
###