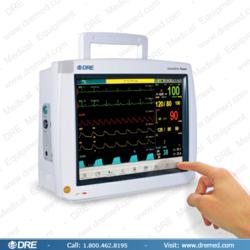 Louisville, KY (PRWEB) June 05, 2011
DRE, Inc., a surgical and medical equipment leader, announces that the DRE Waveline Touch patient monitor has been cleared by the FDA for U.S. distribution. According to Justin Jeffries, marketing director of DRE, the Waveline Touch provides exceptional flexibility via an intuitive touchscreen interface.
"The Waveline Touch puts complete monitoring control at your fingertips. Use the touchscreen to quickly navigate through menus and inspect patient trends, as well as adjust settings on the fly," says Jeffries.
The DRE Waveline Touch displays up to eight waveforms on a vivid 12.1" color display. It provides multi-lead ECG monitoring, ST segment monitoring and up to 72 hours of trend data analysis.
DRE offers the Waveline Touch in configurations that measure ECG, respiration, SPO2, NIBP and temperature, and with optional dual invasive blood pressure and EtCO2 monitoring.
Additional features include:

NIBP list display
Built-in thermal recorder
Networkable with a central monitoring system via a wireless or wired network
48 hours trend data analysis
Compact design convenient for mobile monitoring
Multi-lingual settings
Available with battery and built-in recorder
The flexible DRE Waveline Touch integrates with the DRE Envoy TS telemetry system. By interfacing the Waveline Touch with the Envoy TS, hospitals and surgery centers can track extended vital signs for multiple patients from the central monitoring station.
DRE's monitoring line also includes Waveline EZ, a lightweight, portable monitor; Waveline Pro, a network-ready multi-parameter anesthesia gas monitor that can display eight vibrant waveforms on a 15" flat panel display; Waveline Echo, which is available in configurations that measure, SPO2, and quick temp.
Medical professionals can learn more about DRE's patient monitoring solutions, as well as other new and professionally refurbished medical products, by visiting http://www.dremed.com.
About DRE, Inc.
DRE is a premier medical and operating room equipment supplier. DRE provides a combination of new and professionally refurbished or used medical equipment to industry professionals around the globe. Recently Inc. Magazine named DRE to its Inc. 5000 list of America's fastest growing private companies.
###