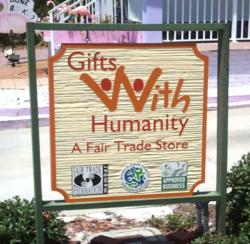 New Smyrna Beach, FL (PRWEB) June 06, 2011
After achieving a milestone of 1000 fans on Facebook, Gifts With Humanity founders Kevin Ward and Renice Jones are letting their customers and fans decide how to celebrate. The site's Good Cause program already donates 10% of all sales to Good Causes recommended by fans and customers. With the achievement of the 1000 fan milestone, they are donating an additional $250 to one of these good causes based on votes on Facebook. Fans of Gifts With Humanity can vote for their favorite Good Cause until June 17th on Facebook.
Ward believes that in the era of social media, organizations and businesses need to not only listen to customers but also engage them in decision making.
Founders Kevin Ward and Renice Jones started the Fair Trade business after returning from a three year Peace Corps volunteer placement in Kenya in 2002. "The Good Cause program is a way for us to connect with our local community," Ward says. "We are always looking for local Good Causes that can benefit from our sales. Our purchases from artisans and craftspeople in the developing world have pumped over $2,500,000 into their local communities," Ward continues. "We feel it's now time to do some good for our local communities as well."
###