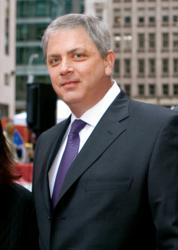 New York, NY (PRWEB) June 03, 2011
Members of the education community have selected Mark Nieker, president of the Pearson Foundation, one of the top "Leaders to Watch" in EdNET's Best for 2011. This award, created by MDR and voted on by the EdNET community at large and the EdNET's Best panelists, recognizes business professionals making a significant impact in the education industry.
"The 2011 'Leaders to Watch' honorees are education technology superstars," said Dr. Nelson Heller, President of EdNET, MDR. "Being named among the EdNET's Best places Mark Nieker among the top five exemplary business leaders in education, and we congratulate those who made the list."
Mark Nieker is the founding chief executive officer of the Pearson Foundation, the non-profit arm of Pearson, and under his leadership the organization has made a difference by promoting literacy, learning, and great teaching. The Pearson Foundation has done this by collaborating with leading businesses, not-for-profits, and education experts to identify and share good practice; foster innovation; and find workable solutions to the educational disadvantages facing young people and adults across the globe. In 2011, the NEA Foundation recognized the Pearson Foundation with its Award for Philanthropy in Public Education, one of public education's most prestigious honors.
MDR, with support from Educational Systemics, created the EdNET's Best program to recognize leaders and innovations in today's education marketplace. The recipients on the 2011 EdNET's Best list will be officially honored at a recognition ceremony held at the 2011 EdNET Conference, September 25-27, in Denver, Colorado.
About the Pearson Foundation
The Pearson Foundation extends Pearson's (NYSE:PSO) commitment to education by partnering with leading nonprofit, civic, and business organizations to provide financial, organizational, and publishing assistance across the globe. The Foundation aims to make a difference by sponsoring innovative educational programs and extending its educational expertise to help in classrooms and in local communities. More information on the Pearson Foundation can be found at http://www.pearsonfoundation.org.
About EdNET
EdNET, the education business network, brings recognized industry experts, education business executives, and school leaders together to share insight, explore trends, find opportunities, and build partnerships. The EdNET offerings include EdNET Insight, the decision support service; the EdNET Conference, the "must-attend" education event for leaders in the education market; and the EdNET News Alert, the free weekly e-newsletter, all owned and operated by MDR.
About MDR
For more than 40 years, MDR has been the market's first choice for marketing information and services for the K-12, higher education, library, early childhood, and related education markets. Powered by the most complete, current, and accurate education databases available in the industry, MDR provides email contacts and deployment, direct mail lists, sales contact and lead solutions, along with social media marketing services and the EdNET community. For more information, call 800.333.8802 or visit http://www.schooldata.com.
###