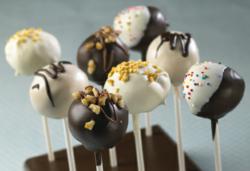 Salted caramel is a key flavor this year and dessert lovers will fall for Ticklebelly's Sea Salt Caramel Blondie Pops.
Anaheim, CA (PRWEB) June 05, 2011
Tickling bellies and setting trends across the country, Ticklebelly Desserts today tempts dessert lovers at the International Dairy-Deli-Bakery Association Show (Booth #1569) with 26 new petite bites including various flavors of Brownie Pops, Cheesecake Pops, Cake Balls and Molten Lava Cakes and Molten Lava Cheesecakes. Always the leader in dessert innovation, the 26 new Ticklebelly creations join a bakery full of trendsetting desserts from the Denver-based company and will be available in grocery stores and wholesale clubs this summer. Ticklebelly Desserts offers "gourmet that isn't out of the way" in the consumer marketplace and these delectable petite bites are right-sized to satisfy every consumer's sweet tooth.
"Ticklebelly Desserts continues to be first to market with innovative desserts for consumers," stated Brian McGuire, President of Ticklebelly Desserts, "and this year our brownie pops, cheesecake pops, and cake balls give consumers the most options when it comes to petite bites."
"Salted caramel is a key flavor this year and we're introducing sea salt caramel blondie pops in addition to chocolate, chocolate peanut butter, and chocolate walnut brownie pops," McGuire added. "Ticklebelly products are available in grocery stores and wholesale clubs so consumers no longer need to make a special trip to a bakery for gourmet treats," explained McGuire.
Desserts debuting today include:
Brownie Pops:
Chocolate
Chocolate Peanut Butter
Chocolate Walnut
Sea Salt Caramel Blondie
Cheesecake Pops:
NY Plain – pink and white half & half coating
NY Plain – yellow and white half &half coating
Chocolate – dark coating with white non-pariels
Chocolate – dark and white half & half coating
Cake Balls:
Chocolate Fudge
White
Coconut
Black Forest
Cherry Cordial
Lemon
Peanut Butter
Salted Caramel
Coconut mini
German Chocolate mini
Twisted Molten Lava Cakes:
Chocolate
Oreo®
Cinnamon
White Chocolate
Twisted Molten Lava Cheesecakes:
NY Plain
Chocolate
Mini Chocolate Cake with Crumbs
Mini Light Chocolate Cake with Dark Chocolate Drizzle
Ticklebelly Desserts leads the industry with innovative, first-to-market gourmet creations for the consumer marketplace including dessert shots, and dessert minis. Ticklebelly also bakes a line of individually packaged gourmet cupcakes, decadent molten cakes, silky cheesecakes, and delectable infused cakes. Headquartered in innovation-inspiring Denver, CO, Ticklebelly was founded in 2007 to fill a void in the dessert industry by providing "gourmet that isn't out of the way." Ticklebelly President Brian McGuire believes everyone should have access to gourmet desserts without having to make a special trip to a stand-alone bakery. Ticklebelly's dessert innovations are available in select grocery stores throughout the country in the refrigerated section of the bakery as well as in the freezer section. Ticklebelly desserts are also available at select King Soopers, Albertson's, Raley's, BJ's Wholesale, C&S Wholesale, and Sam's Club locations. To share the Ticklebelly experience and find out where on earth we came up with the Ticklebelly name, please visit us at http://www.ticklebellydesserts.com, on Facebook at http://www.facebook.com/Ticklebelly, @TicklebellyDZRT on Twitter, and on YouTube at http://www.youtube.com/ticklebellytv.
###