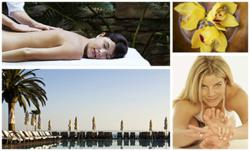 Retreat. Reflect. Rejoice.
Tampa, FL (PRWEB) June 05, 2011
RetreatYourselfWell.com, Tampa-based yoga club, has recently launched a new Facebook Fan to serve as home to discounts and information to their main website. Fans who "like" the page will have access to fan-only discounts and other information that will be shared on the Facebook fan page.
One of the coupons currently being offered can be found on Facebook.
Jen E. Smith, owner and founder, is proud to offer a Facebook discount on the membership at the new RetreatYourselfWell.com website this week, giving club members a chance to get the full scoop in yoga events, workshops, and retreats at a discount.
"I want to have a place where my clients and friends can interact with Retreat Yourself Well and receive industry news and information," said Jen E. Smith. "Facebook is the perfect place for information and I'm proud to be joining the online community there."
Micheline Berry, a prominent figure in the yoga community, says "Jen Smith is a 'connector'. She has that rare ability of an outlier in the yoga world...the priceless ability to successfully connect resource to resource, power to power. I have been touched both personally and professionally by her gift. You are in masterful hands. Now go Retreat Yourself Well!" If you are a member of facebook, please visit our fan page for a 15% discount on the cost of membership!
Retreat Yourself Well Memberships are 6 month ($70) or 1 year ($130) and include:

5-15% discounts to all featured events. The purchase of just one event can pay for your membership many times over.
Gain access to exclusive events around the world.
Detailed descriptions to each event including links to the location of the event and accommodations.
Interviews with instructors to find out their style of teaching in their own words.
A Retreat Yourself Well blog featuring contributors that explore the world of workshops and retreats.
About RetreatYourselfWell.com:
Retreat Yourself Well is a Tampa, Florida based company that provides event service and discounts to yogis across the globe. Since 1995, founder Jen E. Smith has consistently connected the yoga community to their next step in the adventure of their practice. Retreat Yourself Well is a privately owned business so that clients can get that one on one attention that they deserve. For more information on Retreat Yourself Well, please call 310-650-7228 or visit Retreatyourselfwell.com or find us on Facebook.
Jen E. Smith, Director of Events
Retreat Yourself Well
310-650-7228
http://retreatyourselfwell.com/
###