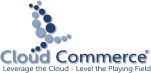 St. Louis, MO (PRWEB) June 07, 2011
Cloud Commerce, a company that supplies the best in cloud computing products and services, is focusing its efforts on helping small and mid-sized companies level the playing field.
The company, which serves the IT and application needs of a variety of different businesses, provides cloud computing assistance for organizations that need to find efficiencies, reduce costs and improve their bottom lines.
"We are very pleased to reinforce our focus on cloud computing for the SMB sector," said Greg Altin, Principle and Founder of Cloud Commerce. "Now more than ever, it is critically important for these types of organizations to use technology to their advantage for sustained success."
Cloud Commerce has a broad range of cloud products for businesses, identifying the core solutions of each organization and finding the cloud computing solutions that are right for them. The company's products include CRM and sales force automation, inventory, ecommerce, telecommunications, email and collaboration, document management and more.
In addition, the company's CLOUDNow Quick Start packages give organizations the opportunity to quickly and easily move to the cloud, complete with top-notch support and upfront pricing. And, its Cloud Bundles allow clients to get special discount pricing for select products, along with a flexible and customized quote.
The company also provides a wide variety of cloud computing services that allow businesses to make easy transitions onto the cloud. Its services include customized cloud comparative TCO, cloud strategy, assisted cloud sourcing and NetSuite implementation.
"At Cloud Commerce, we are committed to helping small and mid-market organizations learn about cloud computing and how it can really benefit them," Altin said. "It is our goal to provide a full set of products and services that help businesses find success."
Cloud Commerce has a leadership team with over 40 years of combined experience in the technology sector and provides cloud computing adoption solutions to businesses, building its reputation as a leader in the cloud products marketplace. The company's mission is to build long-term relationships with its clients, showing them real savings, real value and real results.
To learn more, visit http://www.cloudcommerce.com.
# # #