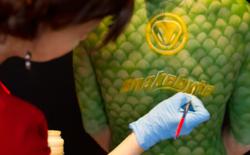 Glendale, CA (PRWEB) June 05, 2011
In an effort to be different and create brand awareness during the upcoming E3 show, Sunflex USA is eschewing the basic 'booth babes' for something different – a fully latex painted Snake Babe.
Stephanie Parker will lend her body to be painted as a snake for the three days of the show, greeting people at the booth and walking the floor promoting the brand in a variety of ways. As an added attraction, one person at the show will have the opportunity to help paint Stephanie on the last day of the show.
"As the new kid on the third-party video game peripheral playing field, we felt we needed to do something different to create awareness for our company," said Mitch Perliss, Vice President Marketing. "We've got some great product to showcase during E3, and we wanted to do something different to create awareness. Once we get attendees to our booth, we know they'll be bowled over by the quality of our product and some of the new and exciting items that will be available before the end of the year."
As an added attraction, one attendee will be chosen among all those who enter to help paint Stephanie on the last day of the show. To win attendees will be asked to create or submit a video telling why they should assist painter Nina Greville in transforming Stephanie into the Snake Babe.
To enter at E3, the company will be posting specific times using Twitter and Facebook for attendees to go to their booth and film a 60-second video saying why they should be the chosen painter. So as not to limit the contest to just attendees, gamers who can't make it to E3 are asked to submit a video to the company and they'll be able to watch an exclusive streaming video of Stephanie morphing into Snake Babe. Complete information is available at http://www.snakebyte-usa.com/blog/2011/05/snakebabe-contest-turning-fantasy-reality/.
About Sunflex USA
Sunflex USA is the exclusive distributor of the video gaming brand snakebyte™, covering a wide range of video gaming and PC accessories. Creator of useful adaptors, sophisticated controllers, premium cables and state-of-the-art peripherals for hardcore gamers, Sunflex is the #1 source for gaming accessories for all systems including Nintendo Wii, Sony PlayStation 3, Xbox and PCs.
The snakebyte™ brand is known worldwide as a leader in third party accessories, entering the U.S. market this year after a decade of success in Europe, garnering many awards and excellent reviews for all of its product lines.
###