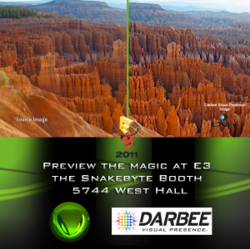 Glendale, CA (PRWEB) June 05, 2011
The quest of reality-like experience continues to drive consumer graphics technology. With great advances in resolution, color depth, 3D rendering and visual enhancements already made, the next frontier is depth perception.
snakebyte™ is proud to bring technology that takes video game images to the next level of reality – through a unique approach the delivers extremely lifelike images that pop off the screen – all without the need for 3D glasses.
As a video processor module in a small housing embedded in the HDMI cable, or housing that can be attached to HDMI cables, this new peripheral will enhance the output of any video game or DVD, Blu-ray, other media players and any digital broadcast on both standard and High Definition TVs.
"Consumers are resisting 3D on television because it costs too much," said Mitch Perliss, VP Marketing for Sunflex USA. "After 5 minutes of watching poor quality 3D with most glasses, consumers decide its not worth it. The DarbeeVision process is wholly appreciated by your visual system and results in extraordinary viewing comfort."
Utilizing neurological and biological principles that underlie human vision to add a three-dimension component to two-dimensional images, the features of the snakebyte™ 3D HDMI cable include:

Patented Darbee Visual™ Presence Technology inspired by neuro-biological modes of human vision
Embeds real depth cues in monoscopic, digital images and thus causes enhanced perception of object shape
Sublime solution of making 2D images look full of depth and realism by putting into an image more of what the human brain is expecting to take out
Resolution-independent, real-time processing with performance surpassing [email protected]
Revolutionary image processing without artifacts or enhancing image noise
Works for any digital image and multiple devices including Blu-ray and DVD players, digital TV, video games, computers and more
This new 3D HDMI cable will be offered worldwide under the snakebyte™ brand and will be showcased I Sunflex booth #5744 in the West Hall.
About Sunflex USA
Sunflex USA is the exclusive distributor of the video gaming brand snakebyte™, covering a wide range of video gaming and PC accessories. Creator of useful adaptors, sophisticated controllers, premium cables and state-of-the-art peripherals for hardcore gamers, Sunflex is the #1 source for gaming accessories for all systems including Nintendo Wii, Sony PlayStation 3, Xbox and PCs.
The snakebyte™ brand is known worldwide as a leader in third party accessories, entering the U.S. market this year after a decade of success in Europe, garnering many awards and excellent reviews for all of its product lines.
###