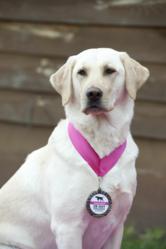 Mason, Ohio (PRWEB) June 06, 2011
Eukanuba announced today that two-year-old, yellow Labrador Retriever, Lucy, from Cedar Springs, Mich., is the 28-Day Challenge "Champion." The super-premium dog food brand encouraged dog owners to submit a photo, and in 100 words or less, explain how their dog went from good to extraordinary while eating any Eukanuba formula for 28 days; Lucy's owner saw great changes during the Challenge, which helped her land top-dog honors in the national contest. As the Challenge Champion, Lucy won the "pink" carpet treatment with a Hollywood-style photo and video shoot, planned appearance in the September issue of Dog Fancy magazine and starring role in a Eukanuba print advertisement.
"The goal of the Contest was to find the best example of a dog going from good to extraordinary as a result of our premium nutrition," said Manuel Miyar, associate marketing director, Eukanuba. "Lucy is a fantastic example of a beautiful dog who with the right nutrition flourished in just 28 days. We're very proud to name Lucy a Eukanuba dog and look forward to sharing her advertising and magazine debut with America in the coming months."
As a representative of America's most popular breed, Lucy is a fantastic ambassador for Labrador Retrievers. Lucy's veterinarian recommended that she slim down, so her owner Madeline decided to test Eukanuba during the 28-Day Challenge. Upon completion, Madeline saw extraordinary results in the way the food fueled Lucy's active lifestyle while helping her lose a couple of unnecessary pounds. She now has extra power in her activities, more muscle in her body, and a much softer and shinier coat. Lucy's unique and inspiring story beat out many other notable canines, including the four other contest finalists, Holly (Westland Sheltie) of Magna, Utah, Chloe (Shih Tzu) of Yardley, Pa., Gunner (Australian Shepherd) of Bloomingburg N.Y. and Alex (Dalmatian) of Beverly, Mass.
"I am so excited Lucy is the Eukanuba 28-Day Challenge Champion," said Madeline Sagorski, Lucy's owner. "I've always thought of Lucy as my champion, so when I saw tremendous results while feeding Lucy Eukanuba, I had to enter her in the contest. I'm so glad I did and America will get to see what an amazing Labrador, hunter, mother and overall companion dog she truly is."
Eukanuba 28-Day Challenge
Eukanuba launched the 28-Day Challenge in January asking consumers to feed their dogs any Eukanuba formula for 28 days to see first-hand how a high-quality diet can promote overall well-being. Dog owners can still sign up to take the Challenge on Facebook.com/Eukanuba, and throughout their experience will receive regular posts with customized nutrition, training and health tips. During the trial period, if participants aren't completely satisfied, Eukanuba will refund 110 percent of the food purchase*.
About Eukanuba
Eukanuba offers the most complete food lineup, delivering nutrition that is customized by breed and breed size as well as health and performance requirements. Eukanuba is a division of Procter & Gamble (NYSE:PG). Visit us on the Web at http://www.eukanuba.com or at Facebook.com/Eukanuba.
About P&G Pet Care
For more than 60 years, P&G Pet Care (NYSE:PG), the maker of Iams and Eukanuba, has enhanced the well-being of dogs and cats by providing world-class quality foods and pet care products. To learn more about Eukanuba® and Iams® Dog & Cat Foods or general pet care and nutrition information, call the Iams Consumer Care Center at (800) 446-3075. You can also visit us on the Web at http://www.iams.com or http://www.eukanuba.com.
About Procter & Gamble
Four billion times a day, P&G brands touch the lives of people around the world. The company has one of the strongest portfolios of trusted, quality, leadership brands, including Pampers®, Tide®, Ariel®, Always®, Whisper®, Pantene®, Mach3®, Bounty®, Dawn®, Gain®, Pringles®, Charmin®, Downy®, Lenor®, Iams®, Crest®, Oral-B®, Duracell®, Olay®, Head & Shoulders®, Wella®, Gillette®, Braun® and Fusion®. The P&G community includes approximately 127,000 employees working in about 80 countries worldwide. Please visit http://www.pg.com for the latest news and in-depth information about P&G and its brands.
*Eukanuba Dog Foods offer a 110% money-back satisfaction guarantee. Simply save the unused portion, original sales receipt and UPC, and call 1-888-EUKANUBA (1-888-385-2682).
# # #