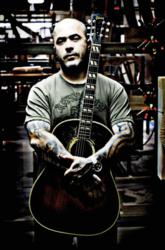 The powerful voice of Aaron Lewis will be a welcomed addition to our 16th Anniversary celebration.
Lincoln City, OR (PRWEB) June 05, 2011
The hit band Staind formed in 1995 and performed for the first year and a half in small clubs around the country. They self released their first album Tormented in November 1996. To date, the band has recorded six studio albums: Tormented (1996), Dysfunction (1999), Break the Cycle (2001), 14 Shades of Grey (2003), Chapter V (2005), and The Illusion of Progress (2008). They recently completed a seventh album, entitled Seven, which is due for release sometime in 2011. The band has also had multiple chart topping singles and has sold over 15 million records worldwide.
Lewis has been performing solo acoustic shows since he was 17. He has written and performed many songs that have never been officially released such as "Angel", "Something Like Me", "Anywhere but Here", and "Sleeping at the Wheel". In July 2010, Lewis finished recording a country music album entitled Town Line released March 1, 2011. It features 7 tracks including 3 versions of the first single "Country Boy" featuring George Jones, Charlie Daniels, and Chris Young. In 2006, Staind lead singer Aaron Lewis was listed in metal magazine Hit Parader's Heavy Metal's All-Time Top 100 Vocalists list at #49.
Cake will be served in the casino lobby on Saturday, June 25 from 1pm until it's gone to celebrate the 16th Anniversary of the casino opening as well as the largest fireworks display Chinook Winds has ever hosted starting at 10:15pm.
Tickets range from $15 to $30 and are on sale now. For more information, or to obtain tickets, call 1-888-244-6665 or visit us online at http://www.chinookwindscasino.com.
# # #