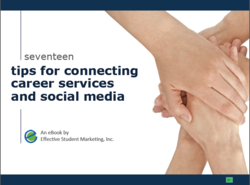 "If you're already offering great career and alumni services on campus, expanding to social media sites can help you bring your departments to the next level."
Grapevine, Texas (PRWEB) June 07, 2011
On Tuesday, June 7, 2011, Andy Kelley, President of Effective Student Marketing, Inc., will be presenting at the Association of Private Sector Colleges and Universities 2011 Annual Convention and Expo in Grapevine, Texas. Kelley's presentation is titled "How Social Media and Online Communities Can Lead to Gainful Employment for Your Students," and is designed to help schools expand the services that career and alumni relations departments offer.
"We've realized that the way students and graduates communicate is changing, and schools need to catch up," explained Kelley. "If you're already offering great career and alumni services on campus, expanding to social media sites can help you bring your departments to the next level."
The presentation will include detailed case study examples from Charter College, a school with ten campuses across three states and online. Doug Booth, the Marketing Manager at Charter College, who oversees social media integration and strategy across all departments, will also be presenting with Kelley.
"We've been working closely with Charter College to roll out a Career Services social media pilot project as part of a larger school-wide social media strategy, and we're excited to share the examples and results that we've seen so far," Kelley said.
Effective Student Marketing uses social media sites like Facebook, LinkedIn, Twitter, and YouTube to increase the information and tools that career services can offer to students and graduates. The presentation will teach schools how to build connections between students, graduates, and hiring managers; identify tools and share tips to help graduates navigate the job hunt; and discover ways to educate and set proper expectations for current students entering the job market.
Presentation attendees will be some of the first to see Effective Student Marketing's new career services centered technology that can help share information with students and graduates and collect their employment details once they've entered the job market.
Effective Student Marketing will also be offering APSCU Convention attendees the opportunity to download an exclusive eBook,"17 Tips for Connecting Social Media and Career Services," which includes actionable tips that will help schools jump start their efforts.
"We want to provide schools with specific takeaways that will help them understand what exactly they can do with social media," said Kelley. "This eBook gives them great examples and ideas for getting started. It's time that social media expands to outside just the marketing department, and this is a good place to start."
About Effective Student Marketing
Founded in 2004, Effective Student Marketing is a strategic marketing organization that helps schools reach their admissions and retention goals by building lifelong relationships with prospects, students, and graduates. Their services combine school-side experience with the latest technology and include online reputation management, social media marketing, cost per lead vendor management, search engine marketing, and e-newsletter production and distribution. For more information, call 1-800-313-3510, visit the Effective Student Marketing website, or join them on Facebook and Twitter.
# # #