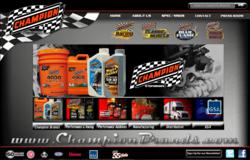 Clinton, MO (PRWEB) June 06, 2011
The Web site was redeveloped to elevate the company's global image and deliver information more effectively to current and potential customers. New features include an interactive distribution map, streamlined access to product technical information, and an updated press center for industry-related releases.
This redesign comes during an exciting year for Champion Brands, with the addition of several product lines which include high performance products designed for racers, hobbyists and enthusiasts alike.
The driving goal of the new web design is to communicate to the automotive industry Champion Brands' experience in lubricant manufacturing and distribution of automotive chemicals in a comprehensive, easy-to-understand format.
The site will serve as an informational portal with increased capabilities and a more contemporary design. The new Web site focuses on providing detailed content about the company's business solutions, manufacturing, distribution, private label capabilities, GSA Contracts, and branded product offerings, which include specialty products for the Racing and Performance Industry.
About the company: Champion Brands, LLC, is a globally recognized industry leader in specialty lubricants for over 55 years. Champion Brands, LLC also produces and blends over 300 products including fuel, oil, engine additives, and lubricants for the automotive, heavy truck, agricultural, industrial, and specialty markets. For more information contact Champion at 800-821-5693 or 660-885-8151. Champion Brands, LLC; 1001 Golden Drive, Clinton, MO, or go to http://www.ChampionBrands.com
###