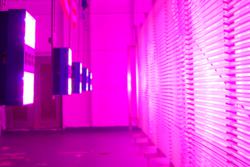 "The algae grown under the 23 LumiGrow fixtures we have already installed is a vibrant healthy green," said Geronimos Dimitrelos, CEO of Algae to Omega.
San Francisco, California (PRWEB) June 07, 2011
LumiGrow, Inc. (http://www.lumigrow.com), the leader in LED-based horticultural lighting solutions, announced today that it will provide energy-efficient controlled illumination for Algae to Omega's vertical indoor farm. LumiGrow LED lighting solutions will boost algae crop yield significantly at Algae to Omega's 60,000 square foot facility in Oakland Park, Florida.
Algae to Omega cultivates algae for high-value products including nutritional supplements, cosmetics and fish meal. The company's indoor farm receives natural sunlight during daylight hours. LumiGrow LED solutions provide supplemental lighting through the night. The use of LumiGrow systems allows Algae to Omega to significantly scale production within the same footprint, enabling the company to meet fast-growing market demand while it minimizes environmental impact and operating costs. Without the LumiGrow lights, Algae to Omega would need twice the space to produce the same amount of crops.
"As a company committed to green technologies, we were drawn to the LumiGrow solution's demonstrated ability to cut energy use and costs by half versus traditional greenhouse lighting systems," said Geronimos Dimitrelos, CEO of Algae to Omega. "But what really drove our selection is that the LumiGrow system's adjustable color spectrum makes it the best choice for boosting algae growth." Mr. Dimitrelos added, "The algae grown under the 23 LumiGrow fixtures we have already installed is a vibrant healthy green."
Among Algae to Omega's corporate objectives is to be a no-waste facility. This policy extends to lighting. Unlike other greenhouse lighting systems that emit broad swaths of the color spectrum unusable by plants, all light emitted by the LumiGrow solution elicits healthy plant responses. Further, Algae to Omega technicians can adjust the LumiGrow system's color output to meet the algae's specific photosynthesis requirements. This precision yields energy savings of greater than 50 percent as compared to other lights.
"Algae to Omega sets an example of how forward-thinking growers innovate to keep abreast of changing market conditions," said Kevin Wells, CEO of LumiGrow. "We're delighted that the LumiGrow solution is helping Algae to Omega realize their vision of a highly productive and cost-efficient vertical farm."
About LumiGrow, Inc.
LumiGrow, Inc., the leading provider of high-efficiency LED lighting solutions for horticulture, enables commercial growers and agribusinesses to achieve operational efficiencies, reduce energy consumption and improve crop yield. LumiGrow offers a range of third-party proven solutions for use in greenhouses, indoor farms and scientific research chambers. LumiGrow solutions are eligible for energy efficiency subsidies from Pacific Gas & Electric, Puget Sound Energy and other utilities. The Company's 500 commercial and institutional customers include Dow AgroSciences, Duke University and the USDA. Headquartered on Treasure Island in the San Francisco Bay, LumiGrow is privately owned and operated. For more information, call (800) 514-0487 or visit http://www.lumigrow.com.
About Algae to Omega
Algae to Omega Holdings, Inc. and its subsidiaries manufacture and market algae-derived products using highly efficient, proprietary methods. Combining environmentally clean technologies such as rain capture and anaerobic digestion, the Company is gearing up for commercial scale production and distribution of high-valued nutraceuticals and feedstocks including super-antioxidant Astaxanthin, pure contaminant-free Omega 3 fatty acids and superior-quality feed for the livestock and aquaculture industries. The Company's proprietary system generates faster algal growth rates versus less efficient open pond and non-continuous, closed-loop systems. Headquartered in Oakland Park, Florida, Algae to Omega is privately owned and operated. For more information, call (888) 261-7110 or visit http://www.algae2omega.com.
LumiGrow is a registered trademark of LumiGrow, Inc. All other marks are the property of their respective owners.
###