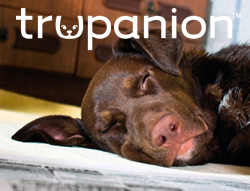 We look forward to welcoming new Fetch! customers to the Trupanion family
Seattle, WA (PRWEB) June 06, 2011
Trupanion, the nation's fastest-growing pet insurance provider, has become a founding partner of pet sitting company Fetch! Pet Care's Customer Loyalty Club. All Fetch! Customers will be automatically enrolled into the Loyalty Club at no additional cost and will receive exclusive rewards from Trupanion and other founding members.
"Many pet owners who protect their pets with pet insurance are also those who turn to pet sitting services to keep their pets happy and healthy while they are away at work or on vacation," said Darren DeFeo, Senior Vice President at Trupanion. "We look forward to welcoming new Fetch! customers to the Trupanion family."
Trupanion's goal is to protect the cherished bond between pets and their families by ensuring that pets are able to receive optimal veterinary care. Fetch! Pet Care's belief, that no pet should go uncared for, mirrors this goal. As more pet owners turn to pet insurance in an effort to take the best care of their pets as possible, they also turn to pet-sitting services to keep their pets emotionally and physically healthy while they are away from the home.
Members of the Loyalty Club will also receive monthly newsletters containing valuable pet information, tips, and special offers from leaders in the pet industry. Trupanion is one of four founding members alongside FURminator, Inc.; SmartTag Pet ID; and Halo, Purely for Pets.
About Trupanion™
Trupanion™ pet insurance offers cat insurance and dog insurance in the United States and Canada. Trupanion™ is self-underwritten by the American Pet Insurance Company, allowing Trupanion™ to offer a simple, customizable pet insurance policy with no payout limits and 90% coverage of veterinary bills. Enrolled pets receive lifetime coverage for diagnostic tests, surgeries, and medications if they get sick or are injured, with no incident, annual or lifetime limit. Trupanion's mission is to deliver fast, simple and user-friendly financial support to pet owners. For more information about Trupanion™, call 800-569-7913 or visit http://www.TrupanionPetInsurance.com.
About the North American Pet Health Insurance Association
Trupanion™ is a founding member of the North American Pet Health Insurance Association (NAPHIA). Founded in 2007, the North American Pet Health Insurance Association is committed to educating and promoting the values and benefits of quality pet health insurance to North American pet owners, the general public, and the veterinary community. As an association, we are committed to high standards and transparency in all of our actions and products. To learn more, visit the North American Pet Health Insurance Association website at http://www.naphia.org.
About Fetch! Pet Care
Fetch! Pet Care is the nation's largest and most trusted provider of professional pet sitting and dog walking services, serving thousands of pets and pet parents from coast to coast. Fetch! pet sitters are experienced, highly trained professionals who are pet parents themselves, so they intuitively and professionally understand what pet owners and pets need. To learn more, visit http://www.fetchpetcare.com.
# # #