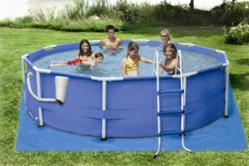 The disconnect from sunlight, fresh air, and nature leads to anxiety and depression in many individuals.
Beaverton, OR (PRWEB) June 06, 2011
Backyard Ocean™, a leading online retailer of above ground pools, salutes America's Great Outdoors Initiative by launching a site redesign and increasing their premium selection of above ground pools and equipment. This comes on the heels of the presidential proclamation last year in which President Obama named June as Great Outdoors Month.
According to the America's Great Outdoors Executive Summary, the America's Great Outdoors Initiative was created to nourish the development of community-driven strategies that strive to preserve the country's natural treasures and to reintroduce America to the great outdoors.
In line with this, the presidential proclamation links the Initiative to Let's Move, First Lady Michelle Obama's endeavor to encourage healthy eating habits and active lifestyles in today's youth. Outlining the importance of this program, is the fact that many children experience Nature Deficit Disorder, a term introduced by celebrated journalist and child welfare advocate, Richard Louv. This disorder refers to the increasing instances of children spending less time outdoors and more time with their computers and video games. This disconnect from sunlight, fresh air, and nature leads to anxiety and depression in many individuals. In light of this, now more than ever, Great Outdoors Month and the America's Great Outdoors Initiative becomes more pressing.
"Backyard Ocean™ agrees with the President and the First Lady in advocating the reintroduction of America's families to our beautiful and unique landscape, and to getting in shape," says Sasha Jacobs, representative for Backyard Ocean™, "In honor of these two great initiatives, Backyard Ocean™ is encouraging Americans to get some fresh air while enjoying our high-quality swimming pools and swimming pool equipment. To help them do so, we're now offering a more attractive and easily navigable website."
As a salute to the Great Outdoors Month, Backyard Ocean ensures a hassle-free and enjoyable shopping experience for their customers. With larger images and an improved navigation bar, Backyard Ocean customers are able to easily access high-quality offerings from the above ground pool and pool equipment supplier.
For the first day of summer on June 21st, Backyard Ocean™ recommends their hard-sided above ground pools and stocking up on all the necessary pool accessories. As an example of what Backyard Ocean™ has in store for Summer 2011, the recently ended Memorial Day Sale had all items at up to 40% off. According to Ms. Jacobs these generous sales allow everybody to take advantage of Great Outdoors Month and to buy the items they'll need for the summer, like pool filter cartridge replacements.
As always, Backyard Ocean™ encourages welcoming the summer (and now Great Outdoors Month) with a splash.
For more information please visit http://www.backyardocean.com.
About Backyard Ocean
BackyardOcean.com is an online retailer for above ground pools and pool supplies. With their wide selection of pools and pool accessories ranging from large ring pools to pool toys, BackyardOcean.com is dedicated to bringing the summer fun of the beach to the backyard.
# # #