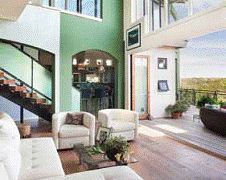 We have a common-sense saying here in Texas that energy you don't use is energy you don't have to pay for.
Austin, Texas (PRWEB) June 04, 2011
A new day is dawning for Texans seeking relief from rising temperatures, rising energy costs and rising frustration over the consequences of our national addiction to fossil fuels -- and it's manifested in the 16 homes showcasing the energy-smart, money-saving solutions of Austin's most innovative builders during the 15th Annual Cool House Tour.
Texans are 'taking it to the streets' this weekend to overcome their energy woes. Co-produced by Austin Energy Green Building and the Texas Solar Energy Society (TXSES), Austin's Cool House Tour offers self-guided, open house tours of 16 of Austin's coolest homes. See them Sunday, JUNE 5, from 10 am to 6 pm. Last year, over 2,000 people traveled from Texas, Arizona, New Mexico – even Colorado – to participate.
People from all walks of life take the tour to experience the benefits and beauty of a whole-house approach to design and construction that maximizes home performance. These include: 1) proper orientation, 2) comfort, 3) energy, water and material efficiency, 4) maintenance reduction, 5) durability, 6) organic gardening and farming, 7) aesthetics and 8) health and safety.
The Cool House Tour also has the people who created and built the solutions on-site so folks can learn about how these strategies could benefit their respective homes and businesses. For the first time in the tour's history, innovative energy solutions to make rental properties more attractive and solutions for low-income housing have been included.
Of interest to contractors, electricians and other tradesmen is that the Cool House Tour's been approved by the US Green Building Council for up to 8 hours of continuing education credits (CE Hours) for LEED (Leadership in Energy and Environmental Design) professionals.
"The builders, architects, home owners, tradesmen and property owners showcasing their work on this tour are taking this day to show people what they've learned about geothermal, solar photovoltaics (PV), solar thermal, passive solar, energy efficiency, rainwater catchment, organic gardening and composting. It's taken years to attain their levels of knowledge. And now all the folks who've worked so hard on these solutions get to share their work and be celebrated," said Cool House Tour co-producer Natalie Marquis, Executive Director of the Texas Solar Energy Society.
"We're looking for the holistic approach to better living that says, 'Look, the world may be in a state of disrepair, but I'm going to control what goes on in my little part of it, and I'm going to choose wisely – and share the good news,'" added Marquis.
The 15th Annual Cool House Tour features 16 five-star quality households selected from a pool of 40 of Austin's finest. Read about the unique solutions of each of the winning homes that are creating a beautiful, sustainable quality of life for families while in many instances slashing their utility bills in the tour's guidebook. And get acquainted with the creative, credible Austin professionals who designed and completed these amazing projects by clicking here.
All tour-takers are required to purchase a Cool House Tour guidebook, which serves as an entry ticket for each person touring a home. Those eager to go to school on the tour may also want to bring their smart phones, as Cool House Tour guidebooks are not only chock full of images and information, they're populated with scannable QR codes. People simply scan icons throughout the book with their smart phones and capture comprehensive details of each home's green features to share and revisit whenever they choose. Download this application and important project notes get taken for you.
Guidebooks can be purchased through June 5 for $15 at Austin Central Markets. All proceeds go to support the Texas Solar Energy Society's outreach and educational efforts.
The 16 households featured in this year's tour demonstrate a number of firsts that shed light on the challenges and rewards of breaking new ground. They include:
…Net Zero Homes That Lead to Zero Balance Energy Bills
…The Tour's First Solar-Powered Rental
…A Couple Living Large in a 900-sq. ft. Structure of Recycled Steel
…An East Austin Homeowner Renovates A Home Abandoned by a GC & Close to Collapse
…One Couple Realizes Their Renewable Energy Dream In A Solar-Unfriendly Subdivision.
"It was incredibly hard to choose just 16 homes to feature, which is a testament to how far green building has come in the last four or five years," notes Cool House Tour co-producer Richard Morgan, Austin Energy Green Building's Green Building and Sustainability Manager.
"This year's winning homes are a mix of new construction and renovation. And their design solutions feature contemporary and traditional, luxury and modest, with all price points in between. We're teaching people about green building, energy efficiency and conservation, and how accessible these solutions are to people in any price range."
Half of this year's Austin Cool House Tour sites are solar-powered. Why only half? This tour isn't just about solar. Studies show that for every $1 invested in energy efficiency, people save $3 to $5 on the final cost of a solar energy solution. "It's the fastest and easiest way to reduce energy bills," added Texas Solar Energy Society's Lucy Stolzenburg. "We have a common-sense saying here in Texas that energy you don't use is energy you don't have to pay for."
The Cool House Tour is one of nearly 700 open house tours across the U.S. in support of the American Solar Energy Society's National Solar Tour, the world's largest grassroots solar event. "There's a lot of oil here, but Texas also has 70% more solar *potential* in Texas than any other state in the country," said Marquis.
"This tour is about spreading the good news of sustainable living. We hear about the bad stuff all the time. If people want to come away inspired, happy and hopeful -- and knowing that they, too, can create a better quality of life, then they should take this tour!"
About the Texas Solar Energy Society (TXSES): The Texas Solar Energy Society is a non-profit organization dedicated to providing solar and renewable energy outreach, education and student grants to facilitate the adoption of advanced energy, job creation and the sustainable choices that lead to cleaner communities throughout the state of Texas. Serving Texans since 1976, TXSES joins Austin Energy Green Building each year to produce the Cool House Tour, Texas' largest public-private green home open house event. As a chapter of the non-profit American Solar Energy Society (ASES), TXSES coordinates with and supports the local activities of its chapters Solar Austin, Solar San Antonio, El Paso Renewable Energy Association, Houston Renewable Energy Group and North Texas Renewable Energy Group to plan and implement educational outreach programs at civic and trade events directly serving Texas' diverse communities. Learn how TXSES is inspiring businesses, consumers, students and trade groups at http://www.txses.org.
About Austin Energy Green Building: Austin Energy Green Building (AEGB) was created by the City of Austin in 1990 and is one of the nation's most successful sustainable building programs. AEGB encourages Central Texans to design and construct more sustainable homes and buildings.
# # #