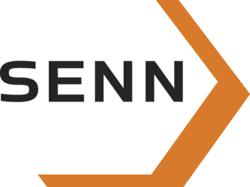 We expect our new location... will allow us to better identify the projects and companies where our expertise can help bring a new compound, therapy or diagnostic method to market more quickly and efficiently.
Menlo Park, CA (PRWEB) June 07, 2011
Senn Chemicals, USA, wholly owned subsidiary of Senn Chemicals, AG (Dielsdorf Switzerland) has opened new offices in Silicon Valley to better support the needs of local pharmaceutical, biotechnology and diagnostic companies. The new base at Menlo Labs provides Senn with a central location to service the entire region.
"Our company specializes in developing optimal processes for the scaleable manufacture of intermediate peptides, complex organic molecules and active pharmaceutical ingredients (API)," says Senn Chemicals CEO, Urs Landolt. "Because we focus on robust and economical methods, we are extremely well-suited to support manufacturing needs from discovery through full scale production. Beyond our technical capability however, exceptional service is a passion. As a 'boutique' CMO, we are able to work very closely with our client partners to ensure we not only meet project timelines, but also address long-term strategic goals."
Senn's Director of Project Management and Client Services, Elizabeth Hoffner, considers the new Senn facility a positive step toward providing much needed services in an area renowned for research and development. "We expect our new location, interspersed with many dynamic young companies, and established research institutions including the Stanford and University of California campuses, will allow us to better identify the projects and companies where our expertise can help bring a new compound, therapy or diagnostic method to market more quickly and efficiently."
ABOUT SENN
Senn Chemicals provides strategically optimized contract manufacturing solutions for biotechnology, pharmaceutical and diagnostic companies worldwide. Headquartered outside Zurich, Switzerland, state-of-the-art, cGMP manufacturing facilities support the company's primary development, production and analytical capabilities. Services offered include: Lead Optimization, Process Validation, Analytical Testing, Production Scale-Up, cGMP Manufacturing, and Quality & Regulatory Documentation Support Services. For more information visit: http://www.sennchem.com
# # #