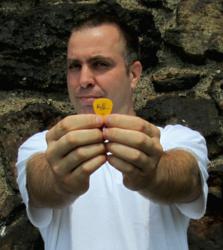 [RUSH knows its fans] are instrument-driven and dig their musical experimentation and virtuousity.
Jupiter, FL (PRWEB) June 06, 2011
When Darin Loccarini first picked up the guitar 2003, he never imagined one day receiving lessons from Alex Lifeson, the legendary guitarist of his favorite band, RUSH. But now, thanks to Songmaster Studios' online music education website, iVideosongs.com, not only has Mr. Loccarini mastered RUSH tunes note for note—he personally received a guitar pick from his hero-turned-online teacher in the middle of a RUSH performance.
After taking Mr. Lifeson's guitar lessons on iVideosongs.com, Mr. Loccarini was front row at a RUSH show, holding up a poster that read, "Thanks for the iVideosongs Guitar Lessons." Mid-song, Mr. Lifeson gave Mr. Loccarini a warm 'You're welcome', pausing and handing him a signature guitar pick.
"RUSH is a band that respects and appreciates their fans," Mr. Loccarini said afterward. "They know we are instrument-driven and dig their musical experimentation and virtuosity." He considers the guitar pick the crown jewel among the RUSH memorabilia he has amassed over thirty years following the group.
Songmaster's iVideosongs series features instructional videos of Mr. Lifeson, as well as John Oates, Graham Nash, drumming legend Russ Kunkel, and literally hundreds of Billboard hits. The company has unique royalty arrangement with more than 75 publishers and artists to produce and distribute its educational content. RUSH classics in Songmaster's catalog of more than 220 high-definition video lessons include Tom Sawyer, Spirit of Radio, and Limelight. The personal instruction by Mr. Lifeson includes note-for-note close-ups of his fretwork, as well as back story about each song's inspiration.
Mr. Lifeson says in one video interview on the site, "Once we started rolling and getting into it, I had a lot of fun with it, and I realized that it's kind of an important thing for anybody that wants to learn a RUSH song or how I play. It's a wonderful way to convey the essence of what playing is to me."
When Mr. Loccarini discovered iVideosongs.com, he was elated. "I am not wealthy," says Mr. Loccarini, "But I'm single, work hard, and sacrifice a lot to do it because RUSH is more than a band to so many people. They are beacons of virtues like work ethic, commitment to excellence, balancing fame, fortune, perseverance, and humility." The Lifeson lessons are among some of iVideosongs' most popular downloads. Other favorites include more than twenty Beatles tunes, featuring Grammy-winning producer Giles Martin, son of Sir George Martin, famed producer of The Beatles.
In June, Mr. Loccarini has commenced his hard-earned dream vacation, following RUSH across North America on its Time Machine Tour, attending every show in every city. He already has his next sign produced: "Alex, more iVideosongs, please!"
# # #