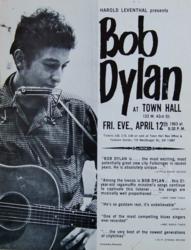 "Among the trends is BOB DYLAN...this 21-year-old ragamuffin minstrel's songs continue to captivate this listener...his songs are musically well proportioned..." New York Times
(PRWEB) June 06, 2011
Andrew Hawley, an avid rock concert memorabilia collector, announces his search for original 1960's Bob Dylan vintage concert posters. Andrew has announced that he is willing to pay $5000 cash for these original concert posters found. Any condition is acceptable.
Andrew Hawley became an avid rock concert collector in the late 1970s. He started collecting old bootleg records, and at one time Hawley had one of the largest Doors collections - records, posters, and bootleg recordings - in the country.  Hawley states, "I was amused by this decade of change. I started collecting Doors concert posters because I was fascinated by the poster's art and primitive style."
 
Hawley  took his passion for rock concert posters to New York City in the 1990s and sold 1960s rock concert posters in an art gallery for three years. Currently, Hawley has been searching for original 1962-66 Bob Dylan concert posters that were hung locally to advertise the upcoming concerts. 
  
Hawley knows people who saw Dylan between 1962 and 1966 and they said it changed their lives and their worldview. Hawley believes "Dylan was a lifestyle and a generational troubadour. He wrote and sang songs about social unrest and change in the 1960s, went electric to the horror of his folk music fans, and became a Christian in the 1970s. Dylan was not afraid to live life whatever it brings."
 
Hawley's favorite Dylan concert poster promotes his Town Hall show on April 12th, 1963 in New York City. The poster was designed by Jules Halfant. The concert is historically significant because Bob Dylan was only 21 years old and this was his first major performance. The original Bob Dylan Town Hall concert poster can be viewed by going to Examples of original Bob Dylan concert posters can be viewed by clicking here.
Hawley will pay $5,000 for original vintage 1962-1966 Bob Dylan concert posters. Any condition is accepted. You will be paid in cash within 24 hours guaranteed. For more information, go to http://www.vintageconcertposterbuyer.com.
# # #