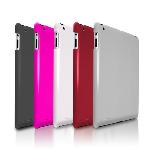 Marware's newest line of iPad 2 Cases with 'Smart Cover' compatibility reflects their commitment to innovation.
Hollywood, FL (PRWEB) June 06, 2011
Marware, a leading mobile-device accessories company, is now shipping its sophisticated line of iPad 2 cases with Smart Cover compatibility.
Discussions on tech forums about Apple's popular iPad 2 have been mostly positive; however, some users have expressed concern about third-party covers interrupting the tablet's sleep/wake feature. Some companies, like Marware, have taken note of these issues by designing solutions into their product line.
Marware's C.E.O Hybrid iPad 2 Case and its MicroShell Folio iPad 2 Case are two such examples. Both of these sophisticated iPad 2 cases have been designed to accommodate Apple's sleep/wake technology by turning the display on when the case is opened and turning it off when closed. The C.E.O Hybrid is an ultra-thin case with an injection-molded structure while the sleek MicroShell Folio offers a versatile, protective lid. Both cases are available in Apple stores or online from Marware.
Marware's MicroShell iPad 2 Case is one of the few cases compatible with Apple's Smart Cover. The MicroShell is molded out of durable polycarbonate as a single piece that snaps on to the back of the iPad 2 and is designed to be used alone or in conjunction with the Smart Cover. Marware is now shipping all of its iPad 2 cases, including the MicroShell.
Marware Inc. is an independently owned, U.S. based corporation whose primary focus is designing and producing accessories for Apple, Amazon Kindle, and mobile electronics markets. Committed to quality over price, Marware started a wave of responsibility in the mobile community with an emphasis on environmentally sensible products and charitable giving to distressed communities and ecological causes.
Visit Marware to learn more about the MicroShell Folio, C.E.O Hybrid, or other Marware iPad 2 cases.
# # #