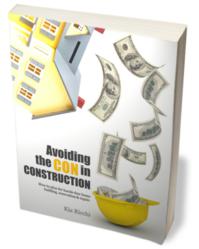 "Hope for the best but prepare for the worst," says Ricchi.
Orlando, FL (PRWEB) June 06, 2011
Now that NOAA has forecasted an above-normal hurricane season for 2011, homeowners are especially attuned to the topic of storm preparedness. Kia Ricchi, a Florida-licensed contractor and frequent speaker at hurricane preparedness events, urges people to consider their possible post-storm construction needs and to be ready to act.
Kia Ricchi, author of the award-winning book, Avoiding the Con in Construction: How to Plan for Hassle-Free Home Building, Renovation, & Repair, will be speaking on June 7, 2011, at the Sun City Chamber's "Riding The Storm" event. She will advise property owners of the importance of planning. Ricchi's number one tip: Everyone should keep on hand a list of qualified contractors. Prescreening of contractors' credentials is the key to being prepared and knowing who to call should the need arise for a building professional to make repairs.
Recently on National Public Radio's member station WLRN, she told Topical Current's host Joseph Cooper, "The state uses licensing and insurance as a means to regulate professionals." Ricchi explains that verifying a contractor's professional license is a two-step process. First, you need to research the state's contractor licensing website to determine if the specific trade is regulated by professional licensing. And second, you need to view the state's contractor license database to determine if the contractor has an active license for his or her trade as required. Ricchi also points out that most states have a Workers' Compensation database that contains information about a contractor's workers' compensation status. Whether hiring a contractor for storm repairs or not, every owner should verify a contractor's compliancy with state licensing and insurance requirements.
Ricchi appeared as a guest on WPTV's morning news recently, where she recommended working closely with the local building department and having the contractor pull a permit for the work directly. "Beware of the contractor who asks you to pull a permit because it may indicate that the contractor is unqualified to do so," Ricchi says.
Ricchi is a frequent contributor to Public Radio and also writes for Remodeling Magazine and FineHomebuilding.com. For articles, videos, podcasts, and information about Ricchi's book and working with contractors, visit http://www.TheContractress.com.
###