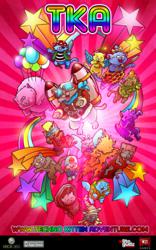 Playing Techno Kitten Adventure is like jumping out of reality into a world of pure happiness.
New York, NY (PRWEB) June 07, 2011
Elite Gudz, creative leader in designing content for mobile, tablet and game consoles, along with game developer 21st Street Games today released its retro-pop explosion of colors and happiness, Techno Kitten Adventure. Previously exclusive to the Xbox Indies marketplace, the high-flying feline friendly game is now available for iPhone, iPad and iPod Touch. The game includes new levels, new graphics, new kittens and new happy hardcore techno music. Android and Facebook versions of the game will shortly follow today's launch.
"Playing Techno Kitten Adventure is like jumping out of reality into a world of pure happiness," said Brian Ferrara, Creative Director for Elite Gudz. "Playing this game makes people smile, pure and simple. I can't wait for people to fall in love with this game."
An easy-to-play single-button game, Techno Kitten Adventure features a jetpack-powered kitten traveling through an out-of-this world experience of bright lights, shooting stars, unicorns and even love, all to set to an extraordinary soundtrack of pumping techno hits. With its beautifully bright neon colors and sticker book style graphics, both casual and hardcore gamers are in for a major treat. TKA draws inspiration from the irresistible appeal of today's pop culture craze of cat-themed internet humor and even the game's official website and related Facebook and Twitter (@ICanHasTechno) pages are ever expanding.
Upon original release in 2010, Techno Kitten Adventure quickly earned a place in the platform's "Top Rated" and "Top Downloaded" categories. Further information on Techno Kitten Adventure, including video teasers, screenshots and other exclusive content is available at http://www.TechnoKittenAdventure.com.
ABOUT ELITE GUDZ
Elite Gudz is a creative studio founded by artists and creators from the worlds of graffiti, comics, designer toys and technology. Their first mobile application, Graffiti Spray Can, climbed to the #1 spot in Entertainment and Free Applications charts around the world within days of its release. Elite Gudz has since become leaders in designing creative content for mobile, tablet and consoles with designer platform production and new media for mass markets. For more information, please visit http://www.elitegudz.com.
For media information, please contact Lauren Williams, DRIVEN Public Relations, 951-719-1040 or press(at)elitegudz(dot)com.
# # #