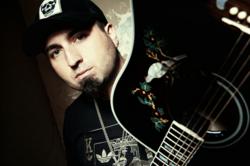 Social media is going to be transformational for creative artists
Boston, MA (PRWEB) June 08, 2011
Midwestern fans of virtuoso rock guitarist Monte Pittman, who has toured with Madonna, Prong and Adam Lambert, have a treat in store for them this week. On June 10 and 11, according to the music fan blog Juneau & Xena's Salon, Pittman is putting on two private concerts in Chicago and Cleveland for admirers who pooled their funds to donate $4,000 towards his new album.
"Pittman has very adroitly used social media to build grassroots support for his independent career," say Juneau Underwood and Katherine Hollinsworth, creators of the popular blog. "But the fans are stepping up to the plate too," they note. "This coming weekend, our blog will be posting photos, videos and reports sent by fans attending the concerts. And on Sunday, June 12, we'll have some of them on our radio show to share first-hand accounts. This kind of activity helps to forge strong ties between artists and their fans."
Musicians are legendary for fighting with their record labels, but young bands today can only dream about waging such epic battles. These days, most artists assume they have a better chance of making the top 10 on American Idol than of inserting a sneakered foot in the door of a major label. Instead, savvy musicians are turning to sites like YouTube, Facebook, Tumblr and Twitter, to give their careers a boost.
"Social media is going to be transformational for creative artists," say Underwood and Hollinsworth. The two women first met around a shared interest in singer Adam Lambert, and have parlayed their passion for music into a venture to promote independent musicians. Their weekly radio program attracts a global audience of listeners who want to hear the latest releases of artists like Pittman and others, including alt-folk rocker Charlie Christos, reggae-fusion artist Ty Hall, electro-pop duo Uh Huh Her and "nouveau soul" band Vintage Trouble.
They have also rallied fans to support artists' CD projects through Kickstarter, a Web-based funding platform that enables the public to finance creative projects. One of these was an album by Los Angeles-based singer-songwriter Scarlett Cherry, inspired by her experience of becoming a mother for the first time. The aptly titled album, "Labor of Love," raised over $42,000 through a Kickstarter campaign. The initial fund-raising goal of $6,500 was quickly exceeded as supporters flocked to contribute, motivated by incentives ranging from autographed CDs to portrait sessions with Cherry's husband, celebrity photographer Lee Cherry. "The energy during this creative process has been indescribable," says Lee Cherry.
"Labor of Love" was released in late April and is available at laborofloveproject.com and on iTunes. The beautifully produced album showcases Scarlett Cherry's rich, supple vocals on pop and R&B-inflected tunes celebrating motherhood with sass and style.
Guitarist Pittman is another musician who is drawing strong support over social media. Last year he toured with Lambert's Glam Nation tour. Pittman's blazing guitar solos won him thousands of enthusiastic fans, who converged on his Kickstarter campaign to raise $65,500 for his next solo album, "Pain, Love and Destiny," which will be released later this year
Among the incentives Pittman offered were private "house concerts" for a $2,000 contribution. Fans quickly reached out to one another over Twitter, Facebook and email and organized more than a dozen such concerts. In addition to the Midwestern shows this week, Pittman will be playing to private groups in Philadelphia and Boston in mid-July.
One thing that can help jump-start an artist's career is to find champions among people with large social media impact. Singer Adam Lambert, an international star who has more than one million Twitter followers, has been notably generous about Tweeting his enthusiasm for talented artists, whether they are megastars like Lady Gaga and the British band Muse or independent artists like Cherry and Pittman. A Lambert tweet propelled the song "Whiskey in Churches" by Los Angeles artist Cassidy Haley to the top of the iTune charts.
"Adam Lambert is a natural-born social media genius," Hollinsworth and Underwood remark. "He genuinely loves interacting with fans via Twitter, and is masterful at using it to announce news, promote his charitable causes and quash rumors. And he's sincere about wanting to spread his good fortune. We'd love to see other major stars study his example and encourage their fans to form 'street teams' to support the artists they believe in."
When Pittman arrives in Chicago and Cleveland this week, he doesn't intend to disappoint the fans. "It's the best stuff I've ever written," he says of the songs on his new album. "This project couldn't have happened at a better time – there's a big void to be filled." And social media campaigns are helping to fill it.
###