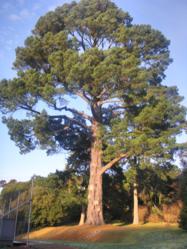 It looks very healthy and impressive from the outside and I am very reluctant to take down such a remarkable tree on the million-to-one chance that someone may be standing beside it in a storm."
Glasgow, Scotland (PRWEB UK) 6 June 2011
The Earl of Glasgow, owner of Kelburn Castle and Country Centre, is refusing to destroy one of Scotland's most valuable trees despite an order by health and safety officials.
The peer faces having to cut down a 200 year-old Monterey pine, the oldest and tallest example of the species in Scotland, following a complaint to North Ayrshire Council by a member of the public.
The local authority's environmental health department has ordered a risk assessment to be carried out on the tree and, if experts deem it to be a risk, officials will order its destruction.
The 150ft tree, which dates from the early 19th century, dominates the skyline of the 3,500 acre Kelburn estate in Fairlie, near Largs. It is one of the most popular attractions at the country centre which is visited by thousands of people every year.
In a letter to the estate, the council said that if the tree was found to be in a dangerous state, remedial action should be taken.
However Patrick Boyle, the 10th Earl of Glasgow, whose family have owned the land since the 13th Century, said that while there was some evidence of fungi affecting part of the trunk, it could remaining standing for several decades without any danger to the public.
He has posted a notice near the tree, warning visitors, but refuses to countenance destroying it.
In a letter to the council, he said: "The Monterey Pine at Kelburn is the oldest and tallest of its kind in Scotland and is of great interest to those who know about trees.
"It looks very healthy and impressive from the outside and I am very reluctant to take down such a remarkable tree on the million-to-one chance that someone may be standing beside it in a storm."
Guidelines issued by the Health and Safety Executive in 2007 said that, each year, between five and six people are killed by falling trees, putting the risk per person as one in 20million. The risk, per tree, of causing fatality is of the order of one in 150million for all trees in Britain or one in 10million for those trees in, or adjacent to areas of high public use.
Paragraph 10 of the Health and Safety at Work Act says that employers have a duty to do all that is reasonably practicable to ensure that people are not exposed to risk to their health and safety. "Doing all that is reasonably practicable does not mean that all trees have to be individually examined on a regular basis," it states. "A decision has to be taken on what is reasonable in the circumstances and this will include consideration of the risks to which people may be exposed."
A spokeswoman for the council said: "We are looking for the tree to be risk assessed and, if there is a significant risk that it's going to fall down, then the remedial action would be the removal of the tree."
She added: "If it's not an urgent risk, then we would be looking for a management plan to be put in place that might include excluding the public from that part of the estate."
Adam Riedi, secretary of the Scottish Arboricultural Association, said the tree was a "superb specimen" and that any remedial action should be proportionate.
"Any tree can fall under a sufficiently high load. You can have trees in very poor condition but by virtue of their position, there's not an unacceptable risk of harm. The amenity value of the tree should count for something."
Notes to Editors:

Kelburn Castle has been home to the Boyle family since the 13th Century and the Earls of Glasgow since the 18th Century
The estate's facilities include The Secret Forest that includes a gingerbread house, a secret grotto, a giant's castle and a crocodile swamp.
During school holidays it runs daily family fun events with seasonal themes and there are ranger guided walks and environmental themed events, provided with funding from Scottish Natural Heritage
It hosts a number of annual events including a Brazilian festival, a music festival featuring emerging bands and a Country Show. The estate has been used by event organisers to host events including Scout and Guide jamborees and an annual Shakespeare production by the Charterhouse Theatre Company.
###