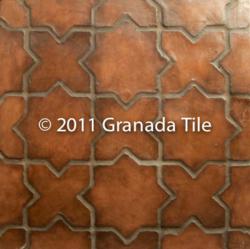 Los Angeles, CA (PRWEB) June 08, 2011
Granada Cement and Concrete Tile released three new cement tile collections following the Coverings international tile and flooring show in Las Vegas, NV. The new product lines include the Moroccan zellij-inspired Minis Collection, sensuous thin Mauresque Collection and leathered Antique Collection.
The Minis Cement Tile Collection are 2 1/4 inch Moroccan Zellij-inspired shapes that can be used in a single color to create an undulating wave of color or mixed and matched to form an intricate carpet. "Too stunning to call cute," says the company's website, these diminutive tiles are perfectly suited for bathroom floors and walls, kitchen backsplashes, and fireplace surroundings.
The Mauresque Cement Tile Collection features organic and sensuous shapes that draw inspiration from a blend of Moroccan and French influences. Each thin tile is hand made, individually hand poured and air cured with colors that match the richness and depth of shells and the sea. According to http://www.granadatile.com, these "Mauresque tiles have an advantage over glazed ones due to their concrete composition that make them stronger and less likely to chip."
The Antique Cement Tile Collection have a leathered, old world style that was most famously found in the era of grand haciendas, with hand-hewn rich brown terracotta tiles, thick adobe walls, and hammered wrought iron. Like the Mauresque tiles, the concrete composition of these Antique tiles give them an advantage over the old terracotta tiles, making them stronger and less likely to chip. Additionally the fact that they are air cured and do not require being fired in a kiln make them a more environmentally friendly tile choice.
The addition of these new cement tile collections means that Granada Cement and Concrete Tile now carries and sells six distinct tile collections. The Minis, Mauresque and Antique cement tiles join the company's flagship and completely customizable Echo Tile Collection, Terrazzo-like Milano Tile Collection and Terracotta-like Rustico Tile Collection.
About Granada Tile
Based in Los Angeles, Granada Tile creates sensational, handmade eco-friendly cement and concrete tiles. Working closely with architects and designers, Granada Tile strives to capture the customer's creative vision through cement tile.
Top tier designers and architects (including Tihany Design, Zeff Design, BAMO, Shubin + Donaldson, and Bestor Architecture) have selected Granada Tile for their resorts, spas, restaurants and offices. Homeowners and interior designers have chosen Granada Tile for their kitchens, bathrooms, living rooms, pools, patios on the floors and walls.
While producing cement tiles at the family's production facility in Nicaragua, Granada Tile lives up to its commitment to be an environmentally friendly business by managing resources responsibly and not contributing to landfills or using toxins.