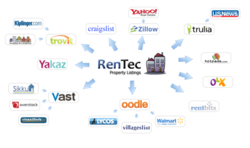 Vacant rentals can be seen by 50 times more potential renters and provide over 25 times more applicants.
Grants Pass, OR (PRWEB) June 07, 2011
Long term or high vacancy rates spell disaster for landlords and property managers. Unquestionably the most important thing for landlords is to keep their properties filled with good tenants. Rentec's property management software helps them do just that with the addition of automated vacancy syndication to the worlds 10 most popular rental publications.
Rentec has long included the option for landlords to create a vacancy listing online which publishes details about the property, price, and as many pictures as the landlord needs. While this feature has always been a big help for landlords, Rentec takes a giant leap forward and now pushes, free to the landlord, this same information to a variety of websites which potential renters frequently visit to search for vacancies in the area they are moving to.
Now with listings automatically published to popular sites like Zillow, Trulia, Yahoo, HotPads, and over a dozen others it provides the landlord or property manager the maximum possible exposure for their vacancy. Trials have shown that when a vacancy is published to the network of listing providers that Rentec uses, the vacancy is seen by up to 50 times more potential renters and provides over 25 times more applicants. This means the potential of 2500% reduction in vacancy time which is a compelling thought to every landlord.
To learn more and try out any of Rentec's advanced products free for 30 days, visit http://www.rentecdirect.com/.
About Rentec Direct
Rentec Direct provides solutions for property managers and landlords with a modern, easy to use application that includes full property and tenant accounting, tenant credit and criminal screening, and automated ACH and credit card payment solutions for tenants and owners.
###