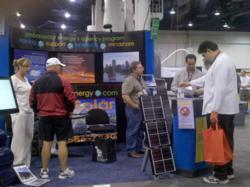 We love our Roofers!
Murrieta, CA (PRWEB) June 06, 2011
"This is where it all started for us," said Kelly Smith, President of Ambassador Energy, "Once we rolled out our Agency program in first quarter 2009, Western States was our first stop. We took a chance on roofing contractors' interest in the being the leaders in the growing and dynamic solar industry. As it turns out, they are extremely enthusiastic about it and now make up more than 80% of our 62 Ambassador Energy Authorized Agencies across the country. We believe in them. They love our offering. And we really look forward to the roofing shows each year, so that we can continue to talk to the professional who should be the ones performing the solar installation, addressing roof condition first and making sure warranties stay intact!"
Steve Fulgham, CEO of Ambassador Energy, further commented, "When we first started doing these shows, people looked at us and wondered why we were there. However, after they kept seeing us at International Roofing Expo [IRE], Western States, METALCON and RCAT in Texas, they realized we really are committed to this group of contractors. Now they are our bread and butter, in regard to the groups we turn out of our training to sell and install solar PV."
Fulgham recently participated on a North American Board of Energy Practitioners [NABCEP __title__ NABCEP] committee and holds two NABCEP certifications, PV Installer and PV Technical Sales. He is also working with the National Roofing Contractors Association to assist crafting testing curriculum for the industry's RISE program and was the solar speaker at the 2010 International Roofing Expo [IRE]. Steve speaks frequently and passionately about Solar PV to both public and industry groups.
See Ambassador Energy at Booth 553 at the Western Roofing Expo 2011.
About Ambassador Energy
Ambassador Energy (AE) is a solar training and distribution company, with over 60 Authorized Agencies operating in 17 US states. AE employs two NABCEP Certified Installers (Fulgham 031310-74 and Kelso 031310-124) and one NABCEP Certified PV Technical Sales professional (Fulgham 012911-35). AE provides a turnkey, consolidated platform of renewable energy training, support, product-agnostic distribution and evolving mindshare to a nationwide network of Ambassador Energy Authorized Agents, who are contractors and entrepreneurs augmenting their portfolios by offering renewable energy solutions to their clients.
Ambassador Energy offers their Agency program to qualified candidates. New Agency Training is offered approximately once every four to six weeks.
###