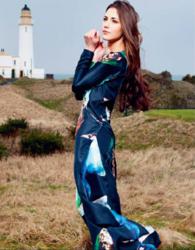 We are impressed with Iona's vision, sense of style, and commitment. We want to be part of her experience" said Tim Danser, President of Prince of Scots.
(PRWEB) June 12, 2011
Up and coming women's fashion designer, Iona Crawford, will be partnering with Prince of Scots to introduce bespoke collections to the North American market. Collections are feminine and timeless captivating ones fashion senses with textile prints and textures, silk, cashmere, and artistry are all very Iona and very Scotland. Stunning short dresses, evening gowns, tailored pieces, statement coats, scarves, and hand bags complete the collection.
Iona first brought her inspiring lifestyle to New York's Fashion Runway via the Dressed to Kilt event. Recognized as a premier Scottish Designer by Vogue, Crawford's silk Farquhar Dress from her Alisa Collection was a crowd favorite at the April show. Iona is also nominated for Young Designer of the Year in the 2011 Scottish Fashion Awards. Drawing inspiration from beauty of Scotland, Crawford's collections will make you want to fall in love again.
"Iona is a true artist in creating timeless contemporary style. She remains true to her humble roots. Choosing the good life of rural Stirling, Scotland over the glitter of London is a testament to her passion" said Sandi Casal, PR and Fashion Director.
The 6th Annual Scottish Fashion Awards will take place on June 15th at the futuristic Glasgow Science Centre. Tessa Hartman, Founder and Event Producer, have put together a world class event to showcase Scotland's greatest resources, their people. Scottish designers have been the fashion rage with likes of Jonathan Saunders, Holly Hunt, Christopher Kane, and more importantly Alexander McQueen who got the nod from the future Queen of England, Duchess Katherine of Cambridge. Good luck to the judges as selecting the winner in 2011 will not be easy with the cast of talent Scotland has to offer.
Designed in association with Skopes, globally renowned producers of menswear, the Iona Crawford Ailsa Autumn/Winter 2011/2012 collection is milestone in the history of each company. Skopes will also introduce their first venture in womenswear designed exclusively by Iona Crawford.
"We are pleased to endorse and support Iona on her introduction to North America. Classic design and beauty are a once in a lifetime experience. We are impressed with Iona's vision, sense of style, and commitment. We want to be part of her experience" said Tim Danser, President of Prince of Scots.
About Prince of Scots
Prince of Scots is an exceptional designer, manufacturer, and retailer of top quality consumer products. The company offers a vast global network of sourcing, manufacturing and distribution through strategic partnerships. Our "Ultimate Goal" is be Best in Class in everything we do.
About Tim Danser
A Fashion Industry Executive skilled in creating "The Next Big Idea." While a student at West Virginia University, he created the school's first pin up calendar, Faces of WVU. Danser has been credited with many "first" in the industry including "Why Rent When You Can Own Tuxedo" at JCPenney and "Dad Wants Free Gasoline" at Sears.
Singular product innovations included the world's first machine wash/tumble dry suit at JCPenney and the world's first Eco suit at Sears. Serving as Vice-President of Marketing at Bagir International, he has been successful at turning the company around, launching Simon Carter in North America while making creating Red Carpet Brands.
Today Danser brings a new global source of supply, a new business strategy to keep your business competitive, and new designers and new talent which create reasons to buy.
For More Information please contact:
Sandi Casal
Fashion and Public Relations Director
http://www.princeofscots.com
http://www.facebook.com/pages/Prince-Of-Scots/187463437958180
###