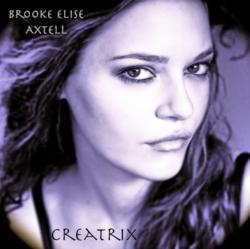 "Through the recovery process, we move from being victims to survivors to creators of change."
Boise, ID (PRWEB) June 08, 2011
In her new CD of songs and poetry, Brooke Axtell explores the search for authentic intimacy and personal power. She collaborated with Austin-based producers Mitch Watkins (guitarist for Leonard Cohen) and Charlie Sexon (guitarist for Bob Dylan) to fulfill her vision for Creatrix. Axtell has performed with a broad range of artists including English pop star, Dido, and internationally recognized drummer, Terry Bozzio (of Frank Zappa).
According to Music Magazine, "Her voice is powerful, enchanting...she shows poetic sophistication...and could easily squeeze into the ranks of such alt rockers as Tori Amos, Ani DiFranco and Alanis Morrisette." She not only shares an artistic resemblance to these dynamic singer-songwriters, she also shares their passion for empowering women.
As a survivor of rape, abuse and sex-trafficking, Axtell is devoted to helping other women break free from violence and find what they need for complete healing. She founded Survivor Healing and Empowerment (SHE) to encourage survivors of gender violence in their recovery process. She says, "Many women are taught that they must choose between love and personal power, but this is a false binary. When love and power are one, we are most effective in creating equality and justice."
Through her Creative Dream Mentoring Program, she helps women identify and fulfill their creative dreams. Some of the participants are emerging writers who want to share their stories and prepare their work for publication. "It helps us to reclaim a sense of dignity when we speak our truth and know that our voices are valued. Every survivor deserves to be heard."
Axtell also encourages members of the SHE community to see themselves as healers and leaders. "Women who have experienced gender violence know intimately how power is abused.They have the capacity to offer crucial insights into how to lead with respect and express power in ways that are are innovative, life-giving and just. Through the recovery process we move from being victims to survivors to creators of change."
She believes that continuing with her own creative work is another form of advocacy. "I try to embody the change I want to see in the lives of the women I help. How can I ask them to honor their creative gifts, if I am not honoring my own? How can I ask them to cultivate lives of radical self-care, if I am neglecting my needs or refusing to be fully honest about my desires?"
Axtell sees her poetry and music as intimately connected to activism. She says, "Creative expression can be revolutionary when it comes from those who have been marginalized or silenced by their experience. Most of the women I connect with have not only endured horrific abuse, but a tremendous degree of victim-blaming. Speaking out is a powerful form of non-violent resistance."
###