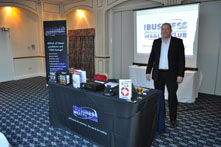 "When I first met Paul the first thing he did was give me a copy of his book, Business SOS. I read it that afternoon and thought this is a person whose team I wanted to be a part of." said Alan.
(PRWEB) June 08, 2011
"Club Mentor Alan has a very impressive 25 Year track record in Business Management" said Paul, "As well as desire to throw himself into new challenges and opportunities where his Leadership skills can shine."
The Business Wealth Club prides itself on appointing Mentors to its Franchises who bring a mix of real world results and experience and a passion to make a difference in their local business community – Alan was no exception.
Having retired from a very successful Corporate career at the age of 46, no mean feat, he went to start, build and grow a number of companies as an Investor and International Coach and Mentor.
But as so often happens with successful people he over did it and one day found himself on the verge of a breakdown. He decided to take 2 years off to re-evaluate his life, spend time with his family and helped lead an expedition of Business People to the North Pole!
"I've experienced great success and been blessed to work with some amazing people in my business life" says Alan "but I also know what it's like at the coal face running a growing business and working long hours. I know how our Members feel and the price you can pay for not structuring your business for success."
Alan was struck by Paul's Passion to help Local Businesses and the depth of practical Street Smart knowledge. "When I first met Paul the first thing he did was give me a copy of his book, Business SOS. I read it that afternoon and thought this is a person whose team I wanted to be a part of." said Alan.
During the breakfast session the delegates got to know each other with the Business Card Breakthrough challenge. The winner was Jeremy Silverstone of Purple Marketing with his amazing 3 section business card that delivered on all the key elements the Business Wealth Club teaches.
The dynamic and fast moving structure of the Club kept the business owners educated and entertained while they worked through a number of Business evaluation exercises to help them identify key areas for growth.
The event was sponsored by Renu Kaunda of St James's Place Wealth Management and we would like to thank her for her support.
"I've always looked to build my Businesses around great People and Teams and this time is no exception" shared Alan.
The St Albans Business Wealth Club is supported by Club Managers Liz Coulter, a former Oxford Business Wealth Club member and Owner of SplashOut Accessories, and Karen Walters who runs STAR Virtual Office.
After the coffee break Paul Avins lead the workshop "Rev Up Your Profits by 101%" which went down a storm with Guests who could hardly keep up with the abundance of practical strategies and takeaway ideas for business improvement across each element of the Business Engine™. The result; a clear and simple to follow plan they could implement to create a massive 101% improvement in their bottom line performance in the next 12 months.
Who is The Business Wealth Club for?
"It's a great question and one I get asked a lot" replies Paul "Really it's for Business Owners of all Sizes, Entrepreneur's across all Industries, Service Professionals across all Sectors including Accountants, Consultants and Coaches, Retailers, Start Up's and Internet Based Businesses, in short any business you can make money in."
In fact in the last 7 Years The Business Wealth Club has trained almost 1,000 Owners of Small and Medium Sized Businesses across hundreds of Industries and has been a source of Positive and Practical Support during the dark days of the Recession.
Five new Members took the Opportunity to secure their place as "Founder Members" and joined the Club on the day taking advantage of the special offers at the launch worth over £1,100!
New Members included businesses ranging from sole traders to those with over 40 members of staff, demonstrating again the broad appeal of the Blended Learning, Mentoring and Positive Support provided by the Club.
"I knew once the Local Business Owners got to see our Unique format and met Alan they would resonate with our Mission and want to be a part of it. It's been a successful start and I look forward to meeting more new members over the coming months!" said Paul.
The next launch event will be at the Quality Hotel in St Albans on Tuesday 14th June where the workshop will be "How to Maximize Your Marketing" covering the 7 Deadly Sins of Marketing, and how to avoid them!
If you are interested in attending to find out more about this Club, register today at http://www.thebusinesswealthclub.com/stalbans
Or go to http://www.stalbans-businesswealthclub.co.uk for more information.
###