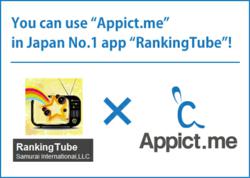 (PRWEB) June 07, 2011
Why Appict.me?
In March 2011, 1,500 new iPhone apps and 400 new Android apps were uploaded each day to their respective stores, according to DISTIMO*1. This indicates that just making an app available in the stores will not lead to further downloads, 69% of application developers feel that promoting their product is "difficult"*2. On the other hand, 71% of app users have downloaded an app based on word of mouth*3, meaning that users currently download more applications based on recommendations, rather than searching the huge inventory in app stores. "In order to take the advantage of this, we released the Appict.me service, which promotes the applications by encouraging users to recommend it to everyone in their social graph." says George Goda, the marketing director at Nobot.
Summary of "Appict.me" http://appict.me/
Appict.me is a social recommendation service that allows users to more actively recommend smartphone apps to their friends and acquaintances in their social graph. With Appict.me's three main features, developers will be able to promote their apps easily by incorporating Appict.me into their apps.
1. Recommendations
App users are able to recommend apps in their social graph. App fans will actively spread words of their favorite apps to their friends.
2. Reports
The following entries are reported on the administration screen. App developers are able to browse these reports and analyze the utilization trend of their apps.

Number of recommendations
Number of times a recommendation was retweeted
Number of times an app was downloaded via a recommendation
3. Messages
Through reports, app developers can find users whose recommendations are the most influential ones and send messages or gifts to them as to signify their appreciation. Developers can give items such as fee-based apps and pay-as-you-go items in apps as a gift.
In conclusion, George stated "we are considering to develop Appict.me under an open source license. We will continue to improve its functionality, expand its compatibility from twitter to other social media platforms like Facebook, to make it useful to as many developers as possible. We are also opening a forum for smartphone application developers, so please feel free to join us."
Developer's Community for iOS http://sourceforge.net/projects/appict4ios/
Developer's Community for Android http://sourceforge.net/projects/appict4android/
Advanced Install Application
Appict.me is installed in RankingTube which is Japan No1 ranking application. (Android only)
https://market.android.com/details?id=jp.samurai_international.RankingTube&feature=search_result&hl=en
How to use Appict.me?
http://www.youtube.com/watch?v=05uioz0Sy1o
*1 Distimo-Publication-April-2011
*2 May-2011, Developer Survey by Nobot Inc.
*3 May-2011, Japanese iPhone/Android users survey
Company name : Nobot Inc.
CEO : Kiyotaka KOBAYASHI
Established : 1st April 2009
Address : 10F Omori Raruta Building, 3-27-6, Sanno, Ota-ku,
Tokyo, 143-0023, JAPAN
URL : http://www.ad-maker.net/
Business : Ad network for Smartphone Apps & Sites
Social media : Facebook : facebook.com/nobotinc , Twitter : nobotinc
Nobot Contact :
Otohiko Kozutsumi (Nobot Inc.)
e-mail:info(at)nobot.co.jp
Tel: 81-(0)3-5724-3743
###