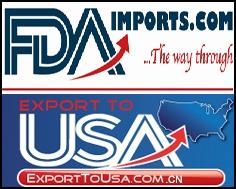 Columbia, MD (PRWEB) June 06, 2011
The FDAImports.com and ExporttoUSA.com.cn team is eagerly preparing for the Food and Drug Law Institute (FDLI) US-China Food and Drug Law Conference this June. This conference, taking place in Beijing, China on June 13 and 14, 2011, will bring expert thinkers and top government officials together to discuss food and drug regulation and policy in the United States and China. This event is hosted by FDLI and FDAImports.com is a platinum sponsor along with GE Healthcare, Pfizer and Medtronic. Mr. Benjamin L. England, Founder and CEO of FDAImports.com, will be speaking as part of a panel addressing the implications of the new U.S. Food Safety Modernization Act. This conference will have unique value for both Chinese and American companies as officials and experts from both countries will present on topics and issues affecting import/export regulation. The session is described below:
Enforcing the Food Safety Law of the People's Republic of China and the US Food Safety Modernization Act.
The food industry is facing the strictest safety enforcement in history by both the Chinese and US governments. But, with limited resources, what are the priority areas for government enforcement? How will government agencies ensure implementation to mandate recalls, increase facility inspections and enforce payment of fees for food companies and importers? In this session, you'll learn about government enforcement priorities in the area of Import controls, warning letters Criminal investigations and sentencing.
Additional information about Mr. England's presentation can be found here:
http://www.fdaimports.com/blog/benjamin-england-to-present-at-the-fdli-us-china-food-and-drug-law-conference-in-june-2011/
A summary of the conference from http://www.FDLI.org
The Food and Drug Law Institute (FDLI) is hosting a conference addressing food and drug law, regulation and policy in China and the United States. Top government officials and internationally renowned experts will discuss the current legal, regulatory and economic environment for the development of food, cosmetics, dietary supplements, pharmaceuticals and medical devices in both countries. The conference will focus on business opportunities and policy challenges in producing safe products and promoting health for a combined market of more than 1.6 billion consumers.
Benjamin L. England is a former 17-year veteran of the FDA and served as the Regulatory Counsel to the Associate Commissioner for Regulatory Affairs. Currently he is founder and CEO of FDAImports.com, LLC, a firm of consultants and affiliated attorneys practicing at the intersections of complex administrative law and regulations that impact international traders in highly regulated commodities.
For more information contact Benjamin L. England and the FDAImports.com team at http://www.fdaimports.com, call (410) 740-3403 or contact Jon Barnes at jrbarnes(at)fdaimports(dot)com.
###