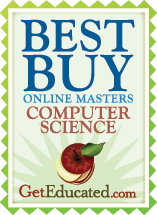 10 of the Top 10 ranked most affordable online computer science masters came from non-profit universities.
Essex Junction, VT (PRWEB) June 06, 2011
GetEducated.com, a consumer research group that publishes online college rankings along the dimensions of cost and credibility has released its list of the top affordable online computer science degrees for distance learning students nationwide.
GetEducated's rankings of online computer science degrees were based on a comprehensive national review of 70 regionally accredited graduate schools online which offer 142 online masters in computers, programming, IT, masters information systems, computer networking, software design, technology, computer design, software engineering, web security and allied career fields.
The average cost for a computer science degree online, including tuition and distance learning fees, registered at $24,918.
East Carolina University's online masters in technology management with various computer and IT majors ranked as the #1 best online computer science degree for consumers concerned with affordability. North Carolina residents will pay only $4,860 for this online degree. Non-residents will pay more at $20,040.
Columbus State University ranked #2 for its online master in applied computer science ($7,956). North Carolina State University at Raleigh's distance learning master in computer science program ranked #3 for state residents ($8,610).
The top online university program for computer science majors, in terms of the most expensive online degree, was Carnegie Mellon University for their distance learning masters program in information technology (IT) ($59,400).
10 of the Top 10 ranked most affordable online computer science masters came from non-profit universities. Nine of the Top 10 "Best Buys" in online computer science masters in the survey came from public universities that offer their residential degrees in a distance learning format. The only private university to make the Top 10 online college ranking list was Western Governor's University (Utah).
GetEducated brings transparency to the process of selecting the best online college by publishing unbiased cost data, reviews from verified online students, and public brand perception data.
Consumers can review and compare 140 accredited online computer science masters in an effort to find the best online degree for their careers and financial profiles.
About: Founded in 1989 by higher education professionals, GetEducated.com is a consumer group that publishes objective online college rankings and real student reviews of the best accredited online degree programs in the USA.
CONTACT: Vicky Phillips, GetEducated.com, Essex Junction, VT. 05452. 802-899-4866. Website: http://www.geteducated.com
###