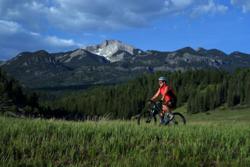 Pagosa Springs, CO (PRWEB) June 06, 2011
The Town of Pagosa Springs today announced its summer and fall endurance event schedule. Located on the western side of the Continental Divide in southwest Colorado, Pagosa Springs is an athlete's paradise. Surrounded by more than three million acres of national forest and wilderness areas, the town offers a wide variety of biking and running trails, all boasting scenery that just might elevate the heart rate on its own.
Whether visitors come to Pagosa Springs for vacation and want to keep up their training regiment or are in town specifically to challenge themselves at one of the excellent endurance events, here are just a few ways to get a move on, Pagosa style. Keep in mind that Pagosa sits at an elevation of 7,500 feet, adding altitude to the difficulty factor of any outing.
Biking
Paved roads, forest service roads and singletrack – it's all available in the Pagosa Springs area. With virtually endless miles of national forest, Pagosa Springs is an ideal biking destination for riders of all skill levels. Learn more about area trails, routes and conditions at http://www.pagosatrails.net.
Reservoir Hill is accessed by two trailheads (above Healing Water Resort & Spa or behind San Juan Motel) in downtown Pagosa Springs. The network of trails is good for bikers from beginner to advanced and can stretch from 1.4 to four miles long. Eightmile Mesa is a longer, 14.4-mile trek that features a muscle-burning steep, four-mile hill. The Turkey Springs area, which boasts miles of trails is a local's favorite. Yurt-based biking is also available at the Pass Creek Yurt, which sits in a peaceful valley next to two babbling creeks. Historic logging roads lead to the
Continental Divide Trail, which offers miles of mountain biking paths winding through sunny meadows and shady forests.
Running
Trail runners have hundreds of miles of breathtaking treks from which to choose. From trails that wind through dense forests to high alpine meadows and deep canyons and river routes, Pagosa Springs offers something for every runner. Turkey Springs is a popular choice that is close to town and boasts a number of loop options. For road running consider North and South Pagosa Boulevard for good routes with loop options. Another popular route – the top of Wolf Creek Pass on Highway 160 starting at Treasure Falls about 12 miles east of town.
Endurance Events (please note schedules are subject to change)
June 11 – Turkey Track Trail Marathon: This trail marathon and half marathon features tons of scenic singletrack, rolling hills and mellow climbs through Aspen groves and Ponderosa Pine, as well as all the rocks, streams and roots you can handle!
July 9 – Pagosa Duathlon: The Full Duathlon is a six-mile run, 12-mile mountain bike ride while the Half Duathlon is a three-mile run, seven-mile bike. Participants can "du" either race as a two-member team or solo. For kids there is a Mini-Du with a one-mile run and a two-mile ride.
Aug. 27 – Mountain Chile Cha Cha: Combining the best of all worlds – spectacular town trails, magnificent music and chile concoctions – this race highlights the premiere downtown Pagosa Springs trails.
Sept. 24-25 – Four Corners Bike Fest: Two days of biking, music, beer and revelry are on tap for this event. A number of bike-related activities are included – Stanley's Fat Tire Cross-Country Race, Wolf Creek Pass Race and the Citizens Ride. For the not-so-serious, there is a "slow" race, the "Bike Toss" and River Race, all in downtown Pagosa Springs.
Oct. 1: Devil Mountain 50 Mile and 50K Ultra
Taking advantage of one of Pagosa's prettiest seasons, this run traverses some of the most remote and pristine old growth forest in the United States. The climbs are great, topping out at just over 9,800 feet with more than 5,000 feet of vertical gain.
Pagosa Springs is also home to high-altitude endurance training camps, organized by local non-profit, GECKO (Giving Every Child Knowledge of the Outdoors). GECKO training camps are held during the summer and are limited to 150 attendees.
About Pagosa Springs
###
Pagosa Springs is located in the Colorado Sunbelt along the western slope of the Continental Divide in southwest Colorado. Nestled in the three-million acres of the Weminuche Wilderness and the San Juan National Forest, it is one of Colorado's most natural escapes. Visitors will find a variety of outdoor activities to participate in including biking, skiing, rock climbing, and horseback riding. Recently, Pagosa Springs was included in National Geographic Adventure magazine's "50 Best Places to Live and Play NOW: The Next Great Adventure Towns edition." To explore what Pagosa Springs has to offer visit http://www.visitpagosasprings.com
Additional References:
http://www.joingecko.org
http://www.pagosatrails.net
http://www.wolfcreekbackcountry.com
###